Dir: Enrique Urbizu. Spain. 2011. 118mins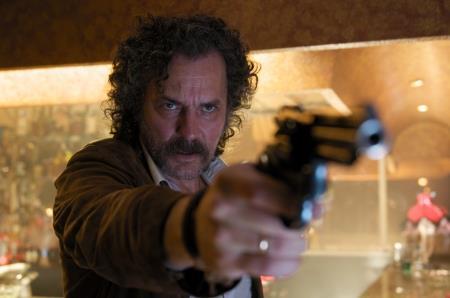 Jose Coronado is very much a bad lieutenant in his third outing for Basque director Enrique Urbizu (after 2002's Box 507 and La Vida Manchada in 2003, all co-written with Michel Gaztambide). Who knows why this foul-mouthed, sweaty-haired drunk pulls out a gun in a stripper-bar on the outskirts of Madrid at the tail end of a spectacular rum-fuelled bender - but by the time he has finished, gravel-voiced veteran cop Santos Trinidad (Coronado) has killed everyone there and is now perfectly placed to wipe away his own thuggish traces.
No Rest For The Wicked together at its core even as the edges start to fray.
But all that's a mere taster for No Rest For The Wicked (No Habra Paz Para Los Malvados), a deliciously complicated and gritty Spanish thriller which almost loses sight of its own multiple narrative leads in a boggy second act but has a dramatic resurrection by end-credits.
That the dead are all Colombian drug dealers may up the ante for its boozy, fag-ashed anti-hero as he seeks to cover his tracks, but when they lead to even nastier guys - Moroccan extremists - will he share the information with the buttoned-down lady judge (Helena Miquel) who is investigating the murders? Or simply kill everyone who gets in his way?
No Rest For The Wicked should attract a mature upscale audience on its Spanish release (September 23), fuelled by evident narrative links to the Madrid bombings of 2004. While its intelligence and narrative ingenuity make an eloquent pitch for remake rights, the dizzying number of bad guys (cops, Colombians, the clumsy intelligence services, informants, endless Moroccans) coupled with a low-key shooting style could limit Wicked's wider-scale international exposure.
Coronado, well-known on the Iberian peninsula for TV shows including the Spanish answer to Damages, tears up the rule book to portray Santos Trinidad, a detective with a troubled past who makes no excuses as he sucks back the double rums.
Unpleasant to a fault, he finds himself in the unexpected position of being ahead of the intelligence services as an terrorist cell prepares an attack on Madrid, while determined straight-arrow Judge Chacon, aided by detective Leiva (Juanjo Artero) is one step behind him. All are entirely believable and hold No Rest For The Wicked together at its core even as the edges start to fray; Coronado's name should crop up in Spanish awards season.
Visually, Urbizu plays it straight in a dark-edged palette, declining to sex up his shots even when the plot virtually screams out for it (dance sequences in a nightclub, for example). Music is oddly scaled back, leaving it all to the actors and a busy editor. No Rest For The Wicked was shot in Madrid and Valencia, with interiors at Ciudad de la Luz in Andalucia.
Production companies: Manto Films, Telecinco, La Zona
International sales: Filmax. www.filmaxinternational.com
Producers: Gonzalo Salazar-Simpson, Alvaro Augustin
Executive producers: Gonzalo Salazar-Simpson, Javier Ugarte
Screenplay: Enrique Urbizu, Michel Gaztambide
Cinematography: Unax Mendia
Production designer: Anton Laguna
Editor: Pablo Blanco
Music: Mario de Benito
Main cast: Jose Coronado, Rodolfo Sancho, Helena Miquel, Juanjo Artero