Dir/scr: Zamani Esmati. Iran. 2010. 76mins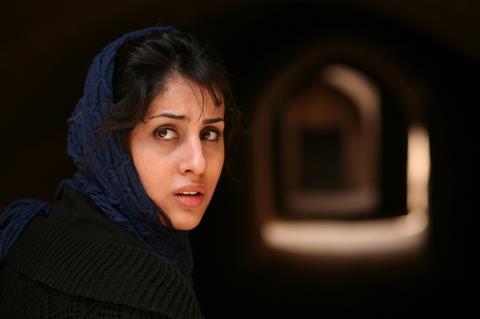 This is exactly the type of film all festivals are expecting, but lately rarely getting, out of Iran. Shot without permission, its rough edges attesting to the difficulties of the production, smuggled abroad despite a distinct order not to display it anywhere, Esmati's second feature (the Iranian censors prevented the release of his first, Narrow Alley, in 2005), fully paid out of his own pocket, with its portrait of victimised womanhood in Islamic Iran, bears all the earmarks of a subversive underground item begging for and most probably deserving international attention.
The climate of constant fear and oppression is evident all through.
Elham (Kiani), a young student, loses her virginity to Amir (Sheykhi) and is terrified that her condition will be found out. Amir, who out of all possible professions is an astronomer (is it supposed to suggest his head is in the clouds?) promises to fix the problem. He takes her to a filmmaker friend's office, asks a former colleague, a doctor who rounds up his income by performing illegal medical interventions, to join them and they all set up the scene for what appears, for all purposes, to be an illegal abortion.
Only later, does it turn out the intention was to sew up the girl's hymen and restore her apparent innocence. The police, alerted by suspicious neighbors, break in, take them all to a chaotic police station, where they are kept overnight under arrest for investigation.
Elham tries to escape and is caught, fingerprinted and released in the custody of her parents. In the final scene, as they drive away, the despondent father, whose only honorable way our is to do away with his sinful daughter, drags her out of the car into a fierce sandstorm, and as he is raging against his offspring, against himself, against the ancient laws and possibly God himself, the last image fades out.
Relying on dialogue often assisted by off-screen sounds and voices, to convey the story, using a montage that allows some scenes to drag on way beyond their welcome and then suddenly jumps through sudden elliptical cuts, possibly intended to bridge over scenes that couldn't be shot, Esmati keeps his camera constantly very close to his characters, avoiding complex frames that would have needed a lot more time and preparation.
Bur the climate of constant fear and oppression is evident all through, so is the male attitude towards women, ranging from authoritative to outright insulting, with Kiani, in the lead, looking appropriately terrified by the trap in which she has been led by a cowardly lover who now expects her deny all her accusations. Not the kind of image Teheran would like to export.
The film had its world premiere in the Forum of Independents section of the Karlovy Vary Film Festival.
Production company: Hama Nomar Company
Producer: Zamani Esmati
International Sales: Nama Honar, zamani_esmati@yahoo.com
Cinematography: Mansour Heydari
Editor: Zamani Esmati
Consulting Editor: Jafar Panahi
Production designer: Amir Zamani
Sound design: Mehrdad Jelokhani
Main cast: Nasim Kiani, Mehrdad Sheykhi, Hamed Baraghani, Mohammed Reza Farzad, Darias Samarani, Houssein Niroumand