Dir/scr: Sophie Lellouche. France. 2011. 79mins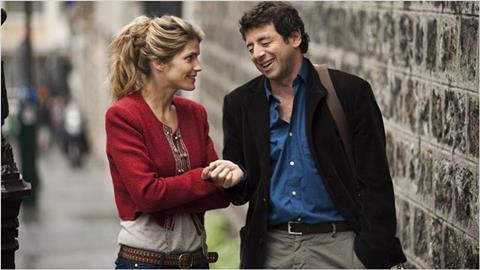 The fabled French admiration of Jerry Lewis may forever remain incomprehensible to outsiders, but the nation's unshakeable love for Woody Allen is sweetly explored in Paris-Manhattan, a fluffy trifle about an unwed female pharmacist who talks to a giant poster of Woody Allen — and gets replies.
A near-must for Jewish film festivals, writer-director Sophie Lellouche's uneven but enjoyable first feature, set in a summery Paris, features a smartly chosen cast and builds to a comic conclusion with some longueurs along the way.
Alice Ovitz (Alice Taglioni) collects snow globes, adores Cole Porter and American jazz standards and keeps a lifetime supply of aspirin handy by her bed. She explains in voice-over that she and Woody Allen clicked the first time she saw one of his movies when she was 15 and that they've kept up an annual "relationship" ever since.
A giant photo of Woody (an early portrait by Philippe Halsman) adorns her bedroom wall. Alice talks to the static image in French and, thanks to authentic snippets of dialogue spoken by Allen in his own films, the two appear to be having a lively conversation in which he answers in English.
The gimmick works but would grow tiresome if the screenplay didn't expand to embrace the broader notion that devotion to an artist's view of the world can color an acolyte's life.
Flashbacks covering 15 years or so establish that Alice comes from a prosperous Jewish family. Her sister, Helene (Marine Delterme), a lawyer, marries dashing Pierre (Louis-Do de Lencquesaing) although picky Alice saw him first.
The Ovitzes have a lovely house where the family gathers for Sabbath dinner and intergenerational sniping. Alice's doting dad Issac (Michel Aumont) runs a thriving pharmacy with a heavily Jewish clientele in Paris' 4th arrondissement. The family is constantly trying to find suitable husband material for attractive blonde Alice, but she's something of a cranky loner who claims that being single suits her fine.
When the action settles in the present, Alice works with her dad. In addition to filling medical prescriptions, she "prescribes" specific Woody Allen DVDs to ailing customers, although she'll occasionally branch out to other comic auteurs. ("Is it true you cured her acid reflux with Lubitsch DVDs?" asks one anxiety-ridden customer in reference to a neighborhood denizen.)
After a party attended by the Ovitz clan, Alice takes the elevator with Victor (Patrick Bruel). They appear to have little in common except being Jewish, over 30 and unattached. He's an electrician who designs and installs novel security systems — like the one that sprays chloroform on would-be burglars.
Circumstances continue to bring pragmatic Victor and dreamy Alice together although Alice has finally fallen for a seemingly perfect guy. Will Alice's long-running complicity with Woody and a head full of movie-fueled expectations lead her to a Hollywood ending?
Actor/singer Bruel has been a popular French entertainer for decades and he and Taglioni are just comfortable enough as verbal sparring partners. While Lellouche's ear for dysfunctional family interactions is not as finely honed, she captures traces of the exasperating yet amusing vein Julie Delpy has mined so well in recent years.
The score by Jean-Michel Bernard is a plus, as is the brisk running time.
Production companies: Vendome Productions, France 2 Cinema, SND
International sales: SND, www.m6da.com
Producer: Philippe Rousselet
Associate producer: Etienne Comar
Cinematography: Laurent Machuel
Production designer: Philip L'évèque
Editor: Monica Coleman
Music: Jean-Michel Bernard
Main cast: Alice Taglioni, Patrick Bruel, Marine Delterme, Louis-Do de Lencquesaing, Michel Aumont, Marie-Christine Adam