Dir: Lucian Georgescu. Romania. 2011. 90mins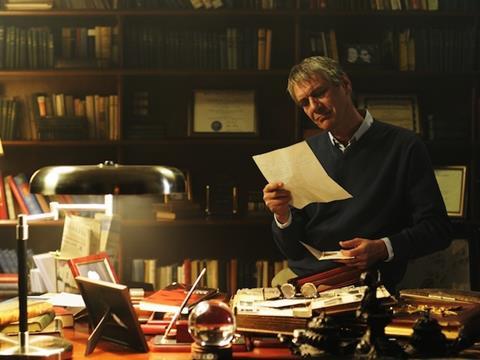 The first half hour of Lucian Georgescu's feature debut apparently settles for the comfortable - though not very original old formula - of a man going half away across the globe to find his roots. But once past that milestone, Phantom Father (Tatal Fantoma) starts to reel dangerously off track and out of control and into the realm of senseless fantasy with a sort of happy ending which even the most romantically inclined will find difficult to digest.
Shot on location, the breathtaking landscapes of Northern Moldavia could have been better exploited.
Marcel Iures, a Romanian actor who has often played in US and UK TV series (Mission: Impossible, The Cambridge Spies) and therefore enjoys at home the aura of an international star, fails to hold this show together, and if the presence of Barry Gifford (Wild Heart, Lost Highway) who not only contributed the original story but also worked on the screenplay and takes on a small cameo part, might suggest some link to David Lynch's work, no such thing materialises in real life.
Robert Traum (Iures), a respected but terribly bored lecturer at an American university, takes a year's sabbatical to go all the way to the north of Romania to unearth the secrets of his origin. His Jewish grandfather left that place to go to America, where one of his two sons (Robert's father) became a ferocious gangster and died in jail, and the other (who adopted Robert) a famous writer and teacher. Once he reaches his destination, besides the wily, rapacious natives, Robert also encounters Tanya (Mihaela Sarbu), a local archivist who tries to help him unravel the past mysteries of his family.
No documents attest to the presence of the Traums in the area, but a friend of his granddad, Sami (Valer Delakeza), is still around. Old Sami, once the proud owner of the town's movie house, is now roaming around from one mountain village to another, showing ancient pieces of film on his antiquated portable projector after having been chased away by a corrupt mayor (Mihai Constantin) and his cohorts of Ukrainian goons who intend to tear the old cinema down and build a mall instead.
From this point on some things proceed by the book (such as Tanya and Traum being pushed into each other's arms) but the rest goes completely haywire. In quick sequence, it turns out that the Traums once owned the entire city; that Sami appeals to the gangster genes in Robert's blood to scare the mayor away; that the Ukrainian goons pack up and go when they hear the CIA might be involved in the whole business and Tanya's nagging, lecherous boyfriend (Mimi Branescu) is arbitrarily dealt with to remove any remaining obstacle to romantic bliss.
If this is indeed supposed to be a fantasy, neither the direction nor the largely ham performances of the entire supporting cast seem to realise it. Even the two leads, Iures and Sarbu, look uncertain of their roles, bemused by a script which meanders around without a purpose or goal. Shot on location, the breathtaking landscapes of Northern Moldavia could have been better exploited and the last thing the dilapidated, run down, abandoned cities visited by the camera apparently are missing is a brand new mall.
Production companies: GAV Romania
International Sales: GAV Romania, office@gav.ro
Producers: Lucian Georgescu, Joachim von Vietinghoff
Screenplay: Lucian Georgescu, Barry Gifford, John Riley based on story by Barry Gifford
Cinematography: Liviu Marghidan
Editor: John Riley, Ion Ioachim Stroe
Production designer: Gabriel Nechita
Music: Johannes Malfatti
Main Cast: Marcel Iures, Mihaela Sarbu, Valer Delakeza, Mihai Constantin, Mimi Branescu, Victor Rebenciug, Mariana Mihut