Dir: Alexandra Aja. US. 2010. 88mins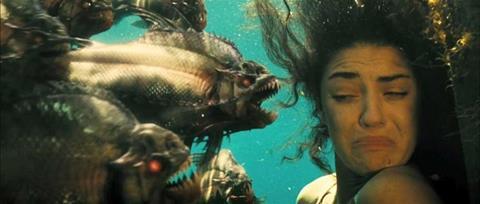 Piranha 3D is a classy piece of old-fashioned exploitation cinema. It is a B-Movie (think blood and boobs as the main 'B'-elements) made with real skill, and with tongue firmly in cheek it is likely to be a hit with young audiences looking for a dose of late-summer horror-comedy entertainment that will make then laugh and scream.
It is a bloodily sustained piece of pure horror as bodies are ripped apart, with a high gore quota that will please horror fans.
This Dimensions Films' release has been kept away from reviewers until the last possible moment…but they shouldn't have worried. It is pretty much review-proof in terms of its exploitation abilities, and will really only suffer if audiences are put off by the gore-level or the lack of A-list talent.
French director Alexandre Aja's horror credentials are well-known – from his 2003 French horror hit Haute Tension through to his US re-make of The Hills Have Eyes – but here he shows he can achieve that rarest of things – a balance between gore and laughs while also hitting the right film references to appeal to fans of the B-Movie genre.
The scene is set in the opening scene as a grizzled fisherman (a cameo played with knowing irony by Jaws star Richard Dreyfuss) tries to snare his modest catch on sleepy Lake Victoria. Sadly for him an underwater tremor helps release scores of prehistoric man-eating piranhas from a long-hidden underground sea, and gosh are they hungry.
Timing couldn't have been worse. Their arrival ties-in with Spring Break, when thousands of party-loving sun-worshipping kids arrive in town for a riot of drunken fun on the lake. Local sheriff Julie Forester (Elisabeth Shue) has her hands full trying to keep order, and asks her teenage son Jake (Steven McQueen, grandson of the Steve McQueen) to babysit her two younger kids.
But he is more than distracted by the assets and antics of model/dancer/actress Danni (played by British model/actress Kelly Brooks) who is set to make a 'movie' for porn king Derrick (Jerry O'Connell) out on the lake…and Jake has been asked to help the crew look for good filming sites out on the lake.
Sheriff Forester is joined by scientist Novak (Adam Scott) and her trusted Deputy Fallon (Ving Rhames) as they try and warn the hard-partying kids that prehistoric killer piranhas are on the way, plus she also has to try and rescue her children from a sinking boat as the 'Wild Wild Girls' porn shoot runs into trouble of the hungry fish kind.
Elisabeth Shue is nicely determined as the tough-but-kind cop, while Ving Rhames is classy as always as her deputy. Jerry O'Connell brings just the right amount of sleaze to his porn king-pin role, while Kelly Brook is rather sweet as the statuesque Danni. She and fellow performer Crystal (played by real-life erotic performer Riley Steele) get to perform a mild naked underwater sex scene (or 'underwater ballet' as the credits dub it) all performed to Delibes' The Flower Duet, one of the most beautiful – and most used – opera duets around. Oddly the piranhas are engaged elsewhere while they seductively perform their underwater antics.
Young Steven McQueen has an easy charm, though never looks particularly at ease in the water, while Jessica Szohr (best known for her lead role in Gossip Girl) is quite charming as his would-be girlfriend. Perhaps best of all is dazzling over-the-top performance by Christopher Lloyd as the barking-mad scientist who unearths the truth about the piranhas' origin.
The 3D works pretty well – it is mainly used for attention on bouncing boobs and prowling piranhas – and adds a nice schlocky value to the exploitation feel. Where Alexandre Aja really comes into his own, though, is in the set-piece piranha attack sequence as hundreds of snarling fish descend on the partying kids (as well as Hostel director Eli Roth, on hand to play a wet T-shirt competition organiser). It is a bloodily sustained piece of pure horror as bodies are ripped apart, with a high gore quota that will please horror fans.
Production companies: Dimension Films, The Weinstein Company, Chako Film Company, Atmosphere Entertainment MM, Intellectual Properties Worldwide
US Distribution: Dimension Films
UK Distribution: Entertainment Films
Producers: Mark Canton, Alexandre Aja, Gregory Levasseur, Marc Toberoff
Executive producers: Bob Weinstein, Harvey Weinstein, Steve Barnett, Scott Fischer, Louis G Friedman, J Todd Harris, Ryan Kavanaugh, Chako van Levasseur, Vincent Maraval, Alix Taylor
Associate producers: Martin J Barab, David Hopwood
Screenplay: Pete Goldfinger, Josh Stolberg
Cinematography: John R Leonetti
Editor: Baxter
Production designer: Clark Hunter
Music: Michael Wandmacher
Website: www.piranha-3d.com
Main cast: Elisabeth Shue, Adam Scott, Jerry O'Connell, Ving Rhames, Jessica Szohr, Steven McQueen, Christopher Lloyd, Kelly Brook, Richard Dreyfuss