Dir/scr: Gerald Hustache-Mathieu. France. 2011. 103mins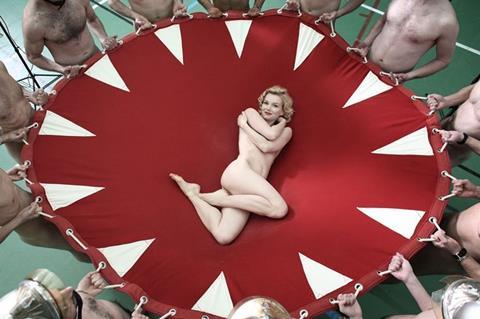 A French author of detective novels jump-starts his stalled imagination on a winter trip to the coldest town in France in Poupoupidou. Writer-director Gerald Hustache-Mathieu's second feature (after 2006's equally offbeat Avril) boasts its own comic rhythms and succeeds in breathing fresh life into the 'meet-quirky-locals-while-solving-a-crime' genre.
Candice appears in flashbacks and also provides a Sunset Boulevard-style narration from beyond the grave.
This modest, but forthright and assured, little picture has potential for gay fests, festivals in general and distributors who pride themselves on material that is NOT remake fodder for the salutary reason that it fits no easily replicated template.
Having driven to Mouthe - a locale with fewer than 1,000 inhabitants,known as "Little Siberia" - for the reading of a will, blocked Parisian novelist David Rousseau (Jean-Paul Rouve) stays on when local celebrity Candice Lecoeur (Sophie Quinton) is found frozen to death in the snow, an apparent suicide by pills.
Nobody asks David to look into the demise of the young woman who believed herself to be the reincarnation of Marilyn Monroe. But he's a self-styled snowshoe gumshoe who checks into a local inn only slightly more welcoming than the Bates Motel, staffed by an incongruous Goth chick (Clara Ponsot).
A hint as to the film's tone: Candice's breakthrough gig was posing for the label of a regional cheese. The region is the Jura. The cheese? Belle de Jura.
David has a sardonic sense of humour, a mopey demeanor and hypersensitive hearing. Candice appears in flashbacks and also provides a Sunset Boulevard-style narration from beyond the grave. In June of 1990, when she was 13, Candice began writing a series of diaries. The most recent, possibly incriminating, volume has gone missing.
Between Candice's ex-husband (Lyes Salem), the book critic (Eric Ruf) at the TV station where she was the weather girl, her therapist (Arsinée Khanjian), the police chief (Olivier Rabourdin), a rising politician (Ken Samuels) and any number of fans, David has more dots than he knows how to connect. And it certainly seems as if somebody is out to kill HIM.
Hustache-Mathieu has a refreshing way of using men as sex objects. The gents of the local fire department obligingly pose in the nude with Candice in their net as she imitates Marilyn's iconic calendar pose, while hunky young cop Bruno (Gouix) takes full-frontal nudity in stride.
Quinton has appeared in both of the director's award-winning shorts and his two features. Her small town Marilyn captures the perks and rawbacks of fame, however down market.
Rouve, an acquired taste, is well cast as the outsider who stirs things up. Widescreen camerawork makes fine use of the snowy enclave.
Production companies: Dharamsala, France 2 Cinema
International sales: MK2 International, www.mk2.com
Producer: Isabelle Madelaine
Cinematography: Pierre Cottereau
Production designer: Marie-Hélène Sulmoni
Editor: Valerie Deseine
Music: Stephane Lopez
Main cast: Jean-Paul Rouve, Sophie Quinton, Guillaume Gouix, Olivier
Rabourdin, Clara Ponsot, Arsinée Khanjian, Eric Ruf, Lyes Salem, Ken Samuels