Dir: Nimrod Antal. US. 2010. 109mins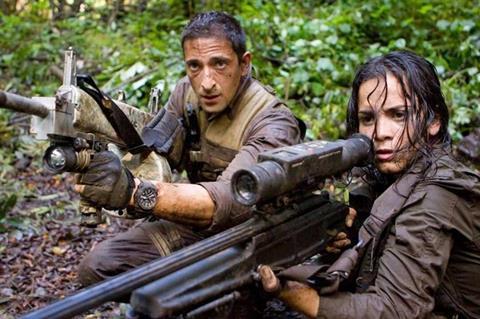 Overseen by fanboy favourite Robert Rodriguez, the latest addition to the Predator series is an enjoyably stripped-down sci-fi action outing that ignores recent franchise developments - the two Alien vs Predator films - and goes back to the 1987 Arnold Schwarzenegger original for inspiration. If the approach can draw both original fans and younger moviegoers Predators could give the Fox franchise a new lease on life.
The action emphasis, and a touch of international casting, should be enough to keep the franchise delivering.
A July 8 North American opening pits the R-rated release against some tough competition, but with its recognisable cast Predators might still be able to beat the $41.2m grossed domestically by 2008's Aliens vs Predator: Requiem. The action emphasis, and a touch of international casting, should be enough to keep the franchise delivering in other markets (Requiem did an impressive $87.1m internationally).
Director Nimrod Antal (Rodriguez wrote an early draft and acts as producer and visual effects supervisor) sets the tone by literally dropping the seven main characters - among them a tough mercenary (a pumped-up Adrien Brody), a nervous doctor (Spider-Man 3's Topher Grace), an Israeli sniper (Alice Braga, from I Am Legend), a cocky serial killer (The Shield's Walter Goggins) and a Russian soldier (ultimate fighter Oleg Taktarov, from Righteous Kill) - into the story's jungle setting.
The human characters, it quickly transpires, are all hunters of sorts themselves, but now they're on a distant planet being tracked by aliens - slightly bigger and nastier versions of the franchise's original title creature, equipped with upgraded weapons and their own breed of hunting dogs.
The group's encounter with an earlier human survivor (nicely played by Laurence Fishburne) adds some humour and there's some basic drama when the members of the group finally learn to help each other.
The dialogue is pretty hackneyed and the effects aren't always state-of-the-art. But what the film - shot at Rodriguez's Texas facility Troublemaker Studios and on locations in Hawaii - lacks in some departments it makes up for with breakneck action and a rousing spirit.
Productions companies: Twentieth Century Fox, Troublemaker Studios, Davis Entertainment, Dune Entertainment
Worldwide distribution: Twentieth Century Fox
Producers: Robert Rodriguez, John Davis, Elizabeth Avellan
Executive producer: Alex Young
Screenplay: Alex Litvak & Michael Finch
Cinematography: Gyula Pados
Production designers: Steve Joyner, Caylah Eddleblute
Editor: Dan Zimmerman
Music: John Debney
Main cast: Adrien Brody, Topher Grace, Alice Braga, Walton Goggins, Oleg Taktarov, Laurence Fishburne, Danny Trejo, Louis Ozawa Changchien, Mahershalalhashbaz Ali