Dirs/scr: Michael Noer & Tobias Lindholm. Denmark. 2010. 96 mins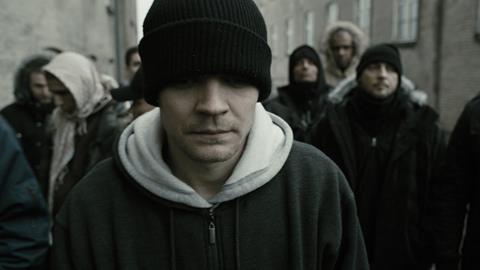 A tough prison movie cousin to A Prophet, R is the first directing collaboration between Denmark's Michael Noer and Tobias Lindholm and a first fictional feature for either. Brutal and grimly compelling in the best tradition of hothouse jail flicks, it is one of those ultra-masculine films which could develop a following among young men although it works on a much smaller scale than A Prophet and offers no redemption in its grisly finale.
It deserves further international festival exposure and a shot at sales, although it will be too hardcore for conservative arthouse audiences.
The film had its world premiere in Rotterdam this year, where it won fans if not prizes, and opens in Denmark on April 22. Remarkably accomplished for its budget of just E0.75m, it deserves further international festival exposure and a shot at sales, although it will be too hardcore for conservative arthouse audiences and it might find difficulties reaching the older boys and young men who would appreciate its razor-sharp edges.
Ironically the parallels with A Prophet are striking, although the filmmakers of R could not have been influenced by Jacques Audiard's story. The film starts with a new prisoner – called Rune or "R" (played by Pilou Asbaek) – arriving at Denmark's harshest prison Horsens State Prison who is quickly enlisted by an aggressive inmate called The Mason (Moller) to beat up and seriously injure another inmate. If he doesn't do it, he himself will be the victim. It's just like A Prophet.
Thereafter his life doesn't get any easier as The Mason and his cronies subject Rune to a life of servitude and abuse. But as he gradually learns the modes of survival inside, Rune stumbles across a means to better his situation. Together with Rashid (Al-Jabouri), a friendly inmate from another wing of the prison, he develops a system for transporting drugs from one wing to another and wins the favour of the men who control the drug trade inside Horsens.
Shot inside Horsens after it was closed down in 2006, the film is hyper-realistic as you'd expect from post-Dogme Danish filmmakers, and the mood and colours of incarceration are powerfully evoked. Most of the cast, with the exceptions of Asbaek and Al-Jabouri, are non-professionals and many have connections to Horsens as prisoners or prison guards.
The film is at its best and worst in its final 15 minutes, a sequence of events which is surprising to say the least, shocking in its violence and problematic in that it closes the film with a disregard for the previous 90 minutes of tension-building. Still the film was never going to end cheerfully and any storytelling surprise these days is to be applauded.
The handsome Asbaek, who made his screen debut in last year's Danish Oscar submission Worlds Apart and made an impression in this year's Berlinale competition film A Family, gives a standout performance here and he is destined to become a star. His brooding Rune skulks around the prison block, cleaning toilets and doing favours for the muscular power-brokers, but his passion for advancement and freedom burns through his expressionless face.
Production company: Nordisk Film Production A/S
International sales: TrustNordisk. www.trustnordisk.com
Executive producer: Kim Magnusson
Producers: Rene Ezra & Tomas Radoor
Director of photography: Magnus Nordenhof Jonck
Editor: Adam Nielsen
Main cast: Pilou Asbaek, Dulfi Al-Jabouri, Roland Moller, Jacob Gredsted, Kim Winther, Omar Shargawi, Sune Norgaard