Dir: Catherine Hardwicke. US. 2011. 99mins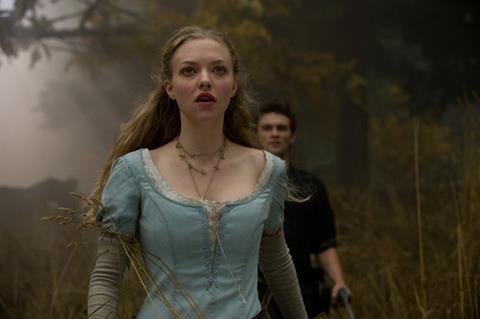 Original Twilight director Catherine Hardwicke puts a dark, Twilight-ish spin on a familiar fairy tale in her spirited but messy Red Riding Hood. The fantasy thriller won't attract a Twilight-sized audience, of course, but with rising star Amanda Seyfried in the title role it might draw a decent crowd of teen and twentysomething horror fans.
Seyfried wears the red cape well, giving Valerie a nice mix of innocence and strength.
Given a pre-release boost by a novelisation that recently topped the New York Times' Paperback Kids/Young Adult list, the Warner worldwide release opens in North America (with a PG-13 rating) on the competitive March 11 weekend. Openings in the international marketplace – where Seyfried may be best remembered from Mamma Mia! – follow through April and May.

Set in the middle of what looks like a stylised medieval forest, this imaginatively designed version of the tale pits not a common wolf but a werewolf against Seyfried's Valerie and her fellow villagers. When the werewolf (brought to life with passable CGI effects) kills Valerie's sister, an almost equally scary werewolf-hunting priest (played by an enjoyably menacing Gary Oldman) arrives and convinces the villagers that during the day the beast lives among them in human form.

Panic and paranoia ensue, with possible werewolf candidates including Valerie's sexy woodcutter boyfriend Peter (Cadillac Records' Shiloh Fernandez), her arranged marriage fiancé Henry (Max Irons, from UK miniseries The Runaway) and even her cool grandma (a nicely cast Julie Christie).

As the film rushes through scenes that recall everything from the Twilight movies to classic horror yarns to The Crucible and The Scarlet Letter, Hardwicke hints at various alternate interpretations of the original fairly tale but never settles on a coherent overall take.

Seyfried – best known in the US for Letters To Juliet, Dear John and cable series Big Love – wears the red cape well, giving Valerie a nice mix of innocence and strength. Also in the supporting cast, and once again playing the heroine's dad, is Twilight series regular Billy Burke.



Production companies: Warner Bros Pictures, Appian Way
Worldwide distribution: Warner Bros
Producers: Jennifer Davisson Killoran, Leonardo DiCaprio, Julie YornExecutive producers: Jim Rowe, Michael Ireland, Catherine Hardwicke
Screenplay: David Leslie Johnson
Cinematography: Mandy Walker
Production designer: Tom Sanders
Editors: Nancy Richardson, Julia Wong
Costume designer: Cindy Evans
Visual effects supervisor: Jeffrey A Okun
Music: Brian Reitzell, Alex Heffes
Website: http://redridinghood.warnerbros.com
Main cast: Amanda Seyfried, Gary Oldman, Billy Burke, Shiloh Fernandez, Max Irons, Virginia Madsen, Lukas Haas, Julie Christie