Dir: Jasmin Durakovic. Bosnia and Herzegovina-Hungary. 2010. 95mins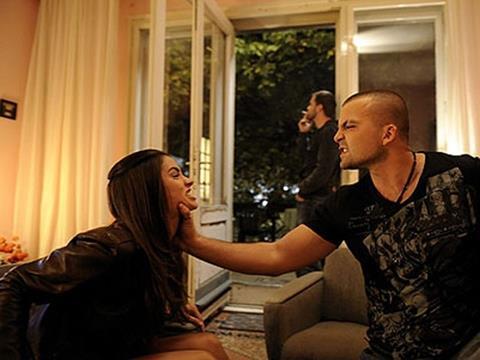 Land mines serve as constant metaphor for life on the edge in this melancholy reflection on a post-war Bosnian lost generation desperately seeking a point of reference to lean on in a world bereft of any real values. The film screened in competition at the Sarajevo Film Festival.
Everything appears to have been thrown into this simmering Bosnian pot.
Thin on plot but with plenty of moody atmosphere for compensation, carried along by a young and gifted cast and touching many of the painfully unsolved issues generated by a war that has left too many of it survivors emotionally adrift, this kind of picture is bound to find its way into many specialised festival programmes dealing with such subjects.
Karim (Selimovic) a former philosophy student whose father was killed by a mine and whose mother died of a broken heart, is clearing mines for a living and considering the option of going to do the same for a much higher pay in Iraq, working for the Americans.
He lives with his sister Dzemila (Bayram), still traumatised by their parents' death, and spends most of his free time with his wartime friend Juka (Haskovic), a heavyset natural macho rabble rouser, everything the quiet, introvert Karim isn't.
Juka has given up mine-clearing to look for a more profitable line of business and is involved in a stormy affair, spiced with plenty of sex and drugs, with Ivana (Karan), a liberated girl living life furiously.
Karim and Juka's close friendship goes sour when Juka is put in jail for a street brawl. During his absence, the dreamy, soul-searching Karim allows himself to be drawn into Ivana's open arms, despite the Koran teachings he is faithfully following.
Karim's religious devotion combined with his constant search for upstanding morals in himself and in others inevitably leads to his being rejected for the Iraq job and once his sister leaves to marry a devout Muslim painter, he is left all alone, starring into the camera, none of the questions having troubled him all through the movie having found a satisfactory answer.
Everything appears to have been thrown into this simmering Bosnian pot, just about ready to blow up at any moment and Durakovic doesn't miss much in his list of front page topics, whether it is the war in Iraq, Muslim indoctrination at home, terrorists lurking in the shadows, the evils of a male-oriented society, the economic crisis or police corruption, though the script never takes the time to dig deeper in any of these issues.
Above all of course there is the sexual longing, announced by the title itself ('sevdah' is a Turkish word carrying complex suggestions of suffering, ecstasy, pain, and intoxication of love almost unto death). Angrily expressed by Haskovic's Juka, defiantly represented by Karan's Ivana, smoldering in Karim and secretly exploding in Dzemila, it is their intense representation of love that holds Durakovic's film together most of all.
Production company: Depo
Producers: Angelina Albjanic-Durakovic, Denes Sekeres
International Sales: Depo (office@depo.ba, +387 33 656 876)
Screenplay: Jasmin Durakovic, Asmir Kujovic
Cinematography: Sahin Sisic
Production designer: Maja Ceric
Editor: Midhat Mujkic
Music: Dubioza Kolektiv
Main Cast: Amar Selimovic, Marija Karan, Adnan Haskovic, Mirvad Kuric, Asli Bayram, Ivana Petrovic, Semir Krivic