Dir: Scott Derrickson. US. 2012. 110mins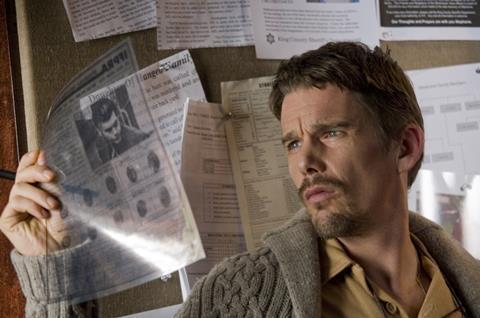 Paranormal Activity producer Jason Blum delivers another variation on the haunted house scenario in Sinister, a well crafted and enjoyably creepy supernatural horror outing given an extra touch of class by the casting of indie scene multihyphenate Ethan Hawke and British stage actress Juliet Rylance.
The mythological hokum is balanced by more grounded and convincingly performed scenes.
Pre-Halloween openings - on Oct 5 in the UK and a handful of other international markets and on Oct 12, through Summit, in the US - should give the film a decent start at the box office. A Paranormal Activity-sized take is unlikely (especially since that franchise's fourth installment opens domestically on Oct 19) but Sinister, which was given a sneak preview at this year's SXSW festival, might be able to match the success of Blum's mid-level 2011 hit Insidious.
Hawke gives an anchoring performance as Ellison, a true crime novelist trying to recapture his early success. Looking for material for a new book, Ellison moves his unsuspecting wife (Rylance, best known for her Shakespeare performances on the London stage) and kids into a suburban house that was recently the scene of a gruesome family murder. In the attic, he discovers a box of home movies documenting the murder and a series of similar killings (with the methods being nasty enough to earn the film an R rating in the US).
Director and co-writer Scott Derrickson (The Exorcism of Emily Rose) lets the tension build slowly as Ellison works his way through the disturbing footage and investigates a series of scary bumps in the night. The suspense is heightened by eerie music from composer Christopher Young and doom metal bands including Aghast and Accurst. An apparently dim-witted policeman (nicely played by The Wire's James Ransome) provides some sly comic relief.
As the mystery of the who or what behind the killings begins to get under Ellison's skin the film veers more towards supernatural horror and occasionally comes close to tipping over into self parody. But the mythological hokum is balanced by more grounded and convincingly performed scenes involving Ellison and his frustrated wife and kids.
Production companies: Blumhouse Productions, Automatik, Alliance Films
US distribution: Summit Entertainment
International sales: I M Global, www.imglobalfilm.com
Producers: Jason Blum, Brian Kavanaugh-Jones
Executive producers: Scott Derrickson, Charles Layton
Screenplay: Scott Derrickson & C Robert Cargill
Cinematography: Christopher Norr
Production designer: David Brisbin
Editor: Frédéric Thoraval
Music: Christopher Young
Website: www.haveyouseenhim.com
Main cast: Ethan Hawke, Juliet Rylance, Fred Dalton Thompson, James Ransome, Clare Foley, Michael Hall D'Addario