Dir: Jaume Balagueró. Spain. 2011. 102mins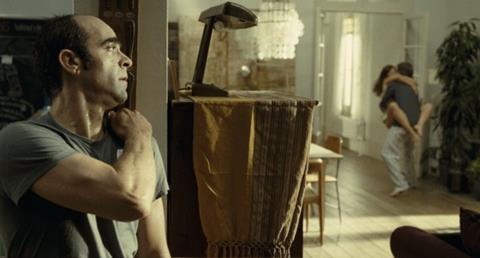 The seemingly solicitous doorman-cum-handyman for a medium-sized Barcelona apartment building is actually a diabolical manipulator of key tenants who don't suspect a thing in Sleep Tight (Mentras duermes, which was released as Malveillance in France).
Suspense builds and a careful accretion of details leads to a satisfyingly sinister multi-pronged denouement.
Anchored by a charismatically unnerving performance by Luis Tosar as Cesar, the concierge who can only assuage his own unhappiness by making others miserable, Jaume Balagueró's (Darkness, Fragile, [REC]) latest effort opened in France to positive reviews after a successful late-2011 run in Spain.
Viewer patience is definitely rewarded as Cesar's project to permanently perturb perky young tenant Clara (Marta Etura) unspools creepy step by creepy step. While this is a "horror" film, it has been unaccountably limited mostly to genre festivals to date and deserves wider commercial exposure.
Cesar is seen waking at 5am beside an attractive young woman who is sound asleep. He quietly lets himself out of the apartment, takes the lovely old-fashioned elevator down, showers in basement quarters and takes up his post at the front desk in the spacious lobby.
As live-in concierge, he has access to all the apartments. We soon learn that he starts his evenings actually under Clara's bed, chloroforms her once she's asleep and then sleeps beside her. Oh, yes - he also injects irritants into her cosmetics and even surreptitiously places rotten fruit way back in her refrigerator to attract bugs.
Cesar, whose mother is near-comatose in a hospital, explains in voice-over that he's congenitally unhappy. He figures his unhappiness is like being born deaf or blind - that's just the way he is.
Under the circumstances, Cesar finds it hard to stay motivated to go on living. But once he embraces the fact that he gets a charge out of making other people unhappy, he has a perverse – a very perverse - reason to live.
Cesar is crafty but he's no master criminal. The bratty little girl (Iris Almeida) in the apartment across the landing from Clara knows Cesar is up to no good - although she, like the audience, couldn't possibly guess how malevolent he really is - and blackmails him on a nine year-old's level of extortion.
Cesar is in nearly every shot and frequently at very close range. The visual approach makes it disconcertingly easy to identify with the protagonist's schizo behaviour and even worry he'll be unable to talk his way out of this or that incriminating situation.
Clara turns out to be maddeningly resilient, making it a major challenge for Cesar to wipe the smile off her face.
The filmmaking, while never plodding, is as methodical as Cesar is with days of the week spelled out on screen as the tale gradually picks up speed. Suspense builds and a careful accretion of details leads to a satisfyingly sinister multi-pronged denouement.
Balagueró, who originally planned to set the tale in Manhattan, makes the most of a handful of locations. Among the tenants, Petra Martinez is touching as elderly Veronica who loves her two small dogs to distraction.
While not in the same league, there are nice bits of inspiration here borrowed from the likes of The Bad Seed, The Tenant and Se7en. The saying goes that good help is hard to find — but really, really bad help masquerading as good help makes for a deliciously slow burn modern horror film.
Production companies: Filmax Entertainment, Castelao Producciones, TVE, Canal Plus, TVC
International sales: Filmax International, www.filmaxinternational.com
Producer: Julio Fernández
Executive producers: Carlos Fernandez, Alberto Marini
Screenplay: Alberto Marini, based on his novel
Cinematography: Pablo Rosso
Production designer: Javier Alvariño
Editor: Guillermo de la Cal
Music: Lucas Vidal
Website: www.mientrasduermeslapelicula.com
Main cast: Luis Tosar, Marta Etura, Alberto San Juan, Petra Martinez, Iris Almeida, Carlos Lasarte, Margarita Roset