Dir: Javier Ruiz Caldera. Spain. 2009. 85mins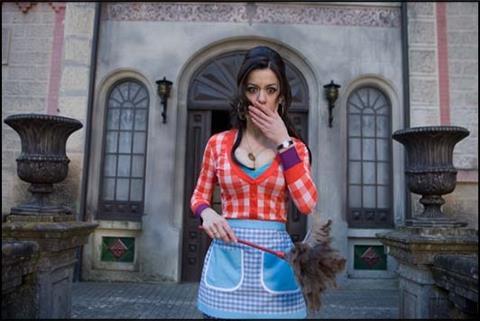 By its very nature, any film that aims to replicate the dubious box office success of spoof movies such as Scary Movie, Date Movie and even Epic (as in epically awful) Movie is aiming fair-and-square at mainstream audiences.
Spanish Movie has the capacity to entertain audiences who are aware of the popular Spanish genre films it mocks.
And with a box office take of more than $10million following its December release by Hispano Fox in Spain and subsequent impressive market sales at Berlin's EFM this Iberian answer to those broad US comedies has proved that horror comedy can sell.
Sales to Latin American countries were to be expected, but Spanish Movie has also sold to Germany and Japan, and despite rather snooty reviews has the capacity to entertain audiences who are aware of the popular Spanish genre films it mocks.
The main targets of the spoofing are recent Spanish horror hits – such as The Others, [REC] and Pan's Labyrinth - but equally other films such as No Country For Old Men and The Sea Inside don't get off easily, with Javier Bardem the comedy target.
New maid Ramira (Alexandra Jiminez) arrives through the mist at an isolated mansion, mainly to look after the two children of Laura (Silvia Abril, essentially spoofing Nicole Kidman's role in The Others), whose husband is away at war. Within minutes she has accidently killed Laura's son and alienated her daughter, though does bond with Laura's bedridden brother Pedro (Carlos Areces, sporting a nice line chunky jumpers for the The Sea Inside jokes).
What follows is a mad cap series of jokes and contrived scenes – including a fairy having her wings burnt off, the faun from Pan's Labyrinth losing his memory and having to act as a servant to the daughter and Laura's husband arriving back from the 'war' in a reference to Alatriste – while an all-to-brief cameo from Leslie Nielsen seeks to confirm the film's affection for its US originators.
Naturally some jokes work far better than others – the [REC] reference is especially amusing – though brief cameos from Spanish genre directors such as Alex de la Inglesia, Jaune Balaguero and Alejandro Amenabar suggest the film isn't regarded as a comedy hack job, while the short appearance Belan Rueda (from The Orphanage and The Sea Inside) also helps give the film a bit of class.
Spanish Movie is undoubtedly a broad piece of mainstream comedy entertainment, but could well prove to be – at the least – a DVD success in territories where those Spanish films are well known.
Production companies: Telecino Cinema, Think Studio, Canal Plus
International sales: Filmax, www.filmax.com
Producer: Eneko Lizarraga, Alvaro Augustin
Executive producer: Francisco Sanchez Ortiz
Screenplay: Francisco Cabezas, Enero Lizarraga
Cinematography: Oscar Faura
Editor: Alberto de Toro
Music: Fernando Velazquez
Main cast: Alexandra Jiminez, Silvia Abril, Carlos Areces, Eduardo Gomez, Michelle Jenner, Leslie Nielsen