Dir: Brian Dannelly. US. 2012. 90mins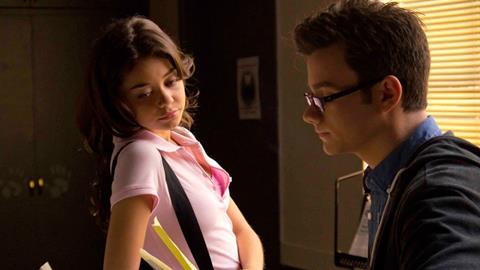 The 'high school misfit against the world' concept has been mined in the movie world many times before, but that doesn't stop Glee star Chris Colfer's scripting debut (he also stars) offer up plenty of smart and quirky moments as is heads into familiar territory.
Alison Janney is wonderful as his sarcastic, boozy, seemingly unemotional mother.
But oddly enough, though its main comedy target is high school satire, where it succeeds best is when dealing with the adults, and in particular is driven by terrific performances by Alison Janney, Christina Hendricks and Dermot Mulroney. The film, which had its world premiere at the Tribeca Film Festival, could well appeal to Glee fans though distributors of indie drama should also take a look.
The film – and this isn't giving too much away as it barely impacts on the actual story – begin with the death (the struck by lightning of the title) of 17 year-old Carson Phillips (Colfer), who then narrates a look back at his troubled high school life.
He is editor of the school newspaper (in fact he is the only one who writes for it), but is despised and largely ignored by his schoolmates and only has one best friend, the engagingly plump Malerie Baggs (played with a good deal of quirky charm by Australian actress Rebel Wilson, who featured in Bridesmaids) who videos everything in her rather dull life.
Home life is little better for Carson. He lives with his single mother (Alison Janey), whose life is based around booze and prescription drugs since his father Neal (Dermot Mulroney left them. Her life is thrown up in the air when dad arrives back in town, along with his pregnant girlfriend, pharmacist April (Christina Hendricks).
In a rather simplistic plot device, Carson ends up blackmailing a group of influential fellow students (top jock, head cheerleader, prom queen, drama head and wealthiest guy) into helping him start a school literary magazine in the hope that its success would help him get into the college of his dreams.
Directed fluently by Brian Dannelly (Saved), the script has its origins from schooldays when 16 year-old Colfer wrote about characters in his junior year at school that he turned into a 10-minute Original Prose and Poetry (OPP) piece for a Speech and Debate event where he played all of the characters.
Colfer plays his character much lower key than his performance in Glee, but while there are a few standout comedy lines never really gets enough comedy from the clichéd high school characters (we also have a bombastic headmaster, inept school advisor and sex-mad sports coach). But it is a different matter when it comes to the adults, who play their roles for pathos rather than pure comedy.
Alison Janney is wonderful as his sarcastic, boozy, seemingly unemotional mother, and the scenes she has with the equally fine Christina (Mad Men) Hendricks as her former husband's new partner are the high points in the film.
Production companies: Permut Presentations, Camellia Entertainment, Evil Media Empire, Inphenate

International sales: ICM, www.icmtalent.com
Producers: David Permut, Roberto Aguire, Mia Chang

Executive producers: Jason Michael Berman, Chris Colfer, Glenn Rigberg, Lawrence Kopeikin

Screenplay: Chris Colfer

Cinematography: Bobby Bukowski

Editor: Tia Nolan

Production designer: Linda Burton

Music: Jake Monaco

Main cast: Chris Colfer, Allison Janney, Christina Hendricks, Polly Bergen, Dermot Mulroney, Sarah Hyland, Rebel Wilson, Carter Jenkins