Dir/scr: Martin Lund. Norway. 2012. 80mins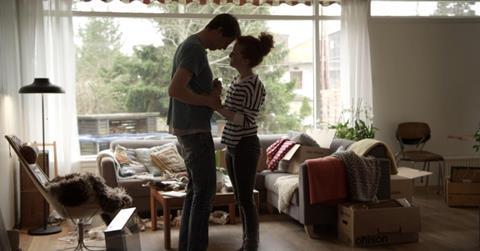 This entertaining comedy on the immaturity of the thirtysomething Norwegian male of the species will have its admirers, embracing it as a delightful piece of droll entertainment, though it also may be seen as a repetitive experience, hiding behind easy jokes just like its hapless hero every time he faces a crisis.
Whether Henryk will manage to grow up or not once he is forced to realise his limitations remains an open question by the end of the film.
Using a schematic plot that tends to stress the same points again and again, The Almost Man (Mer eller mindre mann) may well work for mainstream audiences and could intrigue distributors looking for broad comedy fare. The film premiered in competition at the Karlovy Vary International Film Festival.
Thirty-five year-old Henryk (Henryk Rafaelsen), is freshly married to pert, perky, sensible Tone (Janne Heltberg Haarseth), and is incurably horny on a 24/7 basis and totally incapable of facing any issue seriously, whether it's dancing at home with his wife or handling his new job as a junior advertising executive.
Still an adolescent at heart who'd rather goof around and engage in silly pranks, he looks clumsy and uncomfortable in his oversize body and would rather spend time in the company of his old pals who behave as childishly irresponsibly as he does than meet new people and handle new challenges not to mention that the idea of becoming a parent apparently terrifies him.
No wonder that the happy marriage is bound for some rocky times when Henryk plays deaf to Tone's needs once she becomes pregnant. The same goes for his job, which doesn't seem to interest him in the least.
Most of the blame for his conduct is put on a doting mother who thinks he is not being taken care of properly at home, offers to feed him his favorite dishes every time he comes to visit, with her disapproval of her daughter-in-law, though not stated outright, being implied between the lines.
Whether Henryk will manage to grow up or not once he is forced to realise his limitations remains an open question by the end of the film, though he finally does understand he has a serious problem and needs to cope with it for the sake of his marriage, which is evidently the one thing he prizes most in his life.
Lund's script and direction seem to cater to a mainstream audience, choosing to repeat itself frequently and at times stay with sequences perhaps longer than necessary. The very first scene already brings up the film's main issue – Henryk's true identity, which he is still looking for at the end. Rafaelsen, who has all the physical attributes to play the lead, at times lacks the necessary charm that would compensate for the often-unbearable conduct of his character and keep even as charmingly an understanding wife tied to him.
Maybe part of the answer lies in Haarseth's interpretation of the role, often looking at her troublesome husband with a motherly forgiving gaze which can't help slipping every once in a while into sheer exasperation.
Production company/sales: Ape & Bjorn AS, ruben@apeogbjorn.no
Producer: Ruben Thorkildsen
Cinematography: Morton Forsberg
Editor: Lars Apneseth
Production designer: Ann Kristin Talleraas
Cast: Henryk Rafaelsen, Janne Heltberg Haarseth