Dir: Philip Gelatt. US. 2011. 86mins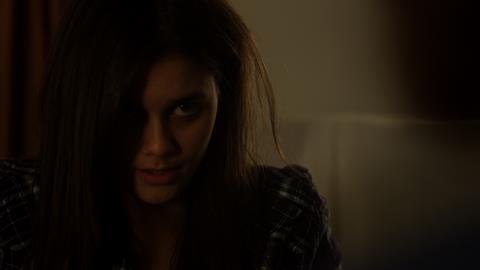 The Bleeding House seeks novelty in rural horror with a quadruple threat – a villain who is a dandy, an itinerant proselytiser, a surgeon …and a punitive serial killer. But quantity doesn't translate into quality here, despite buckets of blood.
Alexandra Chando is ominous as a damaged girl who carries a threatening secret.
Philip Gelatt's dark feature (a Tribeca VOD release) blends family secrets with family slaughter, and could tap into the vast audience for horror in that format. Without recognisable stars, it could get lost in the gore-mix, although the film could have a strong future if its teen lead Alexandra Chando breaks through as a actress.
The Bleeding House follows two strands of horror - The Smith family is isolated, demoralised and broke in a house far from town and a tragedy in the past has earned them the condemnation of neighbors and turned angry young contrarian Gloria (Chando), who only responds to the nom de souffrance Blackbird, into a remorseless killer of animals.
When dapper Nick (Patrick Breen) arrives at nightfall in a white suit with an oleaginous drawl, claiming that his car broke down, the wary family takes him in. Nick starts killing off the well-meaning folk, claiming to be punishing the Smiths for a fire Marilyn Smith (Betsy Aidem) supposedly set in the home of a man who broke off an affair with her.
Lawyer husband Matt (Richard Bekins) won her acquittal and as Nick empties the couple's blood into massive jars, he claims he's exacting God's punishment.
Scripted by Gelatt, the film unpeels the story of the fire that started it all with some skill – did Gloria witness the fire, or did she set it? Yet dialogue can be awkwardly mechanical as strands are tied together.
As Nick, Peter Breen looks like a malevolent Don Knotts and talks like an uninspiring preacher. Unlike the strangers who kill trusting folk for fun in Michael Haneke's Funny Games, Nick has a moral purpose. A traveling salesman using Breen's staged and studied unctuousness would starve, yet the Smiths fall for it. Perhaps this is Gelatt's reflection on the credulity of Middle America.
The strongest character in The Bleeding House is vulnerable and violent Gloria, whose allegiances and past misdeeds are always an uncertainty, especially when she has a weapon in her hand. Alexandra Chando is ominous as a damaged girl who carries a threatening secret. The supporting cast plays to type as Nick hunts them down.
Shot in New Jersey (for a location in the heartland), The Bleeding House has a chilling look in its daytime scenes, but exterior night sequences tend toward the extremely dark, which may be hard to watch for the public that accesses the film through VOD.
The film still has American roots as deep as Nathaniel Hawthorne in its allegory of an every-family that, while not guiltless, is expelled from its community and mocked, and then targeted for execution by a sweet-talking sadistic zealot. Is Nick's rhetoric from the heart, or just the pious public face of a sick mania? Ask an American politician.
Production Companies/Backers: Tribeca Film, American Express, Reno Productions
US Distributor: Tribeca Film
International Sales: Reno Productions 1 212 582 4040
Producers: Will Battersby, Tory Tunnell, Per Melita
Executive producers: Clara Gelatt, Jonathan Gelatt, Peter Askin
Cinematography: Frederic Fasano
Production designer: Jaime Phelps
Music: Hildur Gudnadottir
Main Cast: Patrick Breen, Alexandra Chando, Betsy Aidem, Nina Lisandrello, Richard Bekins, Charlie Hewson