Dir: Deron Albright. Ghana-US. 2011. 87mins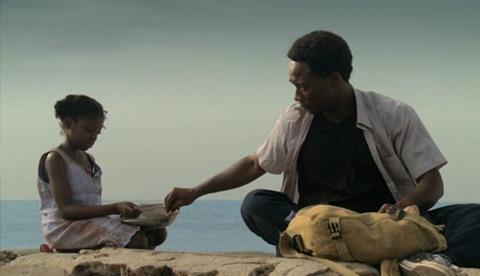 The antinomies of Ghana—extreme wealth/dire poverty; enlightened politics/stifling stratification; natural beauty/shoddy structures—are on full display in this unusual coproduction. Of cultural and, yes, aesthetic interest, the film might have limited commercial prospects if viewers can be enticed to go for the rare contemporary thriller from sub-Saharan Africa (even if the director is a white American) and to forgive its occasional heavy-handedness and overacting.
What keeps the enterprise moving along are the arguments and discussions about Ghanaian politics.
Festivals are a given, and some large urban markets in Europe, more open to African cinema than those in the Western hemisphere, could be in store. The film screened at New Directors, New Films in New York.
In the Ghanaian city of Cape Coast, Inspector Boniface Koomsin (Nunoo, also the film's screenwriter) longs to return to the US, from where he had been deported for shielding his girlfriend from the immigration cops after September 11, 2001. He spends a small fortune on a counterfeit passport, but after it is stolen, he fakes losing his official gun in order to freely pursue the thief.
This necessitates a trip to Accra, where he meets and teams up with a local superdetective, Oscar (Amugi), who is searching for the same perpetrator—but for assault and murder. Oscar wrongly thinks Boniface is on board with him; he does not know that retrieving the false passport is his sole goal.
Key to both investigations is the sexy Serwah (Takyi), a "hostess" in a bar and the girlfriend of the phantom criminal, Yaro, whom we never see (in the film, he is said to come out of nowhere). Her character, a beautiful woman as sly manipulator, is a bit overdrawn. Albright seems to think that such representation can be counterbalanced by the occasional reappearance of a nearly mute homeless girl (Mamuenyega), an innocent who draws out a kinder, gentler Boniface.
Ultimately, after a series of nasty incidents, he recharges his batteries by enhancing that side, even growing the dreadlocks and wearing the African shirts that he had donned during his New York residency. He has hardly smiled until then.
Albright goes for skewed angles and heavy shadows to evoke a suspenseful milieu, but the noirish conception is too obvious. The narrative itself is old-fashioned, and Nunoo keeps repeating a facial tic with his mouth and chin to the point of irritation. Avarese's music combines African and western rhythms to good effect.
What keeps the enterprise moving along, even more than the fairly rapid cutting, are the arguments and discussions about Ghanaian politics, from colonisation through independence through the leadership of the revered Kwame Nkrumah. Albright wisely uses old footage as well as uninterrupted scenes of the two policemen debating the ebbs and flows of Ghanaian history.
Production company: Bright Noon Pictures
International sales: www.brightnoon.com
Producers: Deron Albright, Francis Gbormittah, Dede Maitre, Yao B. Nunoo
Screenplay: Yao B. Nunoo
Cinematography: Aaron T. Bowen
Production designer: Francis Gbormittah
Editors: Jacob Bricca, Lisa Milomot
Music: John Avarese
Website: www.destinyoflesseranimals.com
Main cast: Yao B. Nunoo, Fred Amugi, Abena Takyi, Sandy Arkhurst, Xolasie Manuenyega