Dir. Isaki Lacuesta. Spain-Switzerland. 2011. 88mins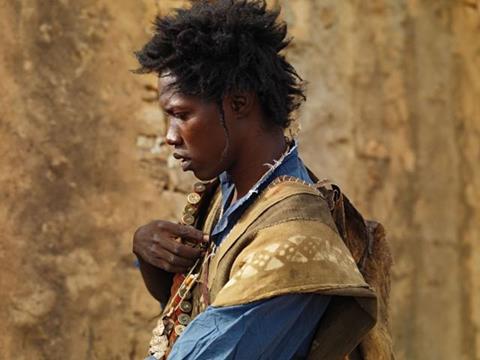 The Double Steps (Los Pasos Dobles) marks a collaboration between Catalan director Isaki Lacuesta (Los Condenados) and one of Spain's foremost living artists, Miquel Barcelo. Shot in Mali, it's a pretty-looking piece, but pretty impenetrable as well with its local dialogue, mystical superstition, non-actors, dead French painters and live-action cuts to a silent Barcelo in his African studio.
There's no doubt that Lacuesta and Barcelo have a keen grasp of their moving image.
With its peculiar narrative thrust, The Double Steps falls somewhere between art house and installation, with the distinct danger that it will please neither end of that spectrum. Gorgeous in parts to look at, it should attract followers of Lacuesta and Barcelo in Spain when it goes out domestically through Avalon Distribution but other avenues could be a challenge.
Inspired by the French painter Francois Augieras, a free spirit who, like Barcelo, spent much time in Africa, one strand of The Double Steps sees a team of local artists (all non-actors undoubtedly chosen for the distinctive cast of their faces) set off on a search for a bunker which is buried somewhere in the desert. Apparently, Augieras drew a complex set of friezes inside but let it be buried in the sand.
Elsewhere, in an African militia, a boy claiming to be Francois Augieras (Bokar Dembele) is cast out into the desert by his Colonel uncle (Hamadoun Kassogue), who also narrates the film.
There is much mystical talk about creating a double to hide your steps as the second Augieras heads off to 'The City of Saints' where he thieves, sleeps with a prostitute, dances in the street and becomes a bandit before ending up in a tree with a beard made of goat's hair where he is worshipped by locals.
And all the while, Barcelo paints in his studio, making Rorschach doubles that are eaten away by termites.
While all this weighty symbolism may end up being too rich for wider audiences, there's no doubt that Lacuesta and Barcelo have a keen grasp of their moving image, reinforced by intense costuming and rich colours. Production values are high throughout, lensed by Diego Dussuel.
The film isn't really about Mali, however, or the people who live there; it's all an oblique way of coming to Augieras and Barcelo.The final frames of the Spanish artist painting from a mountain ledge, looking down on the activities below, seem to mirror The Double Steps' perspective on Mali. And we don't learn much about Augieras or Barcelo either; Lacuesta's success should probably be measured by whether audiences are inspired - or not - to find out more.
Production companies: Tusitala Productions, Bord Cadre Films, TVE
Sales contact: Tusitala Productions, tusitalapc@gmail.com
Producers: Luisa Matienzo, Dan Wechsler
Screenplay: Isa Campo, Isaki Lacuesta
Cinematography: Diego Dussuel
Production designer: Sebastian Birchler
Editor: Domi Parra
Music: Gerard Gil
Main cast: Bokar "Bouba' Dembele, Miquel Barelo, Alou 'Zol' Cisse, Hamadoun Kassogue, Djenebou Keita, Mahamadou Camara