Dir: Nicholas Stoller. US. 2012. 124mins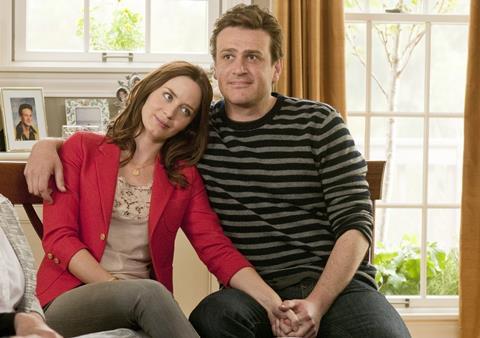 The wedding comedy has long been a Hollywood staple, with Bridesmaids proving (if proof were really needed) that the whole engagement/wedding dress/family getogether routine can still be mined to good effect. But while there are some charming performances and some great set piece comedy moments, somehow this Jason Segel/Emily Blunt rom-com fails to find its right balance, and flails around for looking for laugh-out-loud moments as it tries to juggle crudeness and tenderness.
Jason Segel is a genial and funny lead while Emily Blunt is a comedy natural, as well as brimming with intelligence and good-heartedness.
The film reunites the Forgetting Sarah Marshall team of producer Judd Apatow, writer/director Nicholas Stoller and writer/star Segel, and with the smart casting of Emily Blunt (who can charm for England…and frequently does) they have come up with a familiar 'will-they-won't-they' rom-com plot.
Running over two-hours, though, the film often labours under the weight of too many minor characters fighting for screen time and not enough emphasis on the Segel/Blunt romance. The film is well-supported prior to it April 27 bow, but will struggle to make Bridesmaids numbers.
The Five-Year Engagement, which opened the Tribeca Film Festival, starts off very nicely indeed with San Francisco sous chef Tom Solomon (Segel) nervously staging his marriage proposal to Brit Violet Barnes (Blunt), a psychology student looking for an academic gig in the US.
They are clearly deeply in love – a flashback to them meeting at a costume party on New Years Eve a year before (he dressed in a pink bunny outfit while she is there as Princess Diana) recurs at various points through the film – and she says yes instantly. All well and good, but things start conspiring to get in the way of them actually tying the knot.
First Violet's sister, Suzie (Alison Brie), accidentally gets pregnant by Tom's co-worker Alex (Chris Pratt), and then Violet gets accepted into a two-year graduate programme at the University of Michigan. Naturally Tom agrees to go with her – after all he can cook anywhere – though gradually her career and his inability to find a good job (he works at a hippie sandwich bar) start to take their toll on their relationship. There are some great moments, particularly as Tom starts to grow a mountain man beard, takes to hunting and brews mead, but it is all a familiar set-up about how hard it is to keep a relationship going strong.
Before you know it Violet finds herself drawing closer to her University boss (Rhys Ifans, nicely restrained) and Tom dallies with a co-worker (in a rather clumsily handled food fight scene), and the couple drift apart, with Tom returning to San Francisco to set up a mobile burrito operation and Violet to carry on with her academic career.
The film drifts on to a wholly expected climax – albeit a charmingly staged one – as it manages to refocus on the real strength of the movie…the funny and tender romance between Tom and Violet. Jason Segel is a genial and funny lead (and yes, there is a couple of his trademark naked butt scenes) while Emily Blunt is a comedy natural, as well as brimming with intelligence and good-heartedness, and when the film spotlight shines just on them The Five-Year Engagement the film has a certain grace and ease.
The whole sub-plot about her sister and his best pal frustratingly ends up hampering the story rather than helping it, with Chris Pratt's character overbearing rather than amusing, and a running gag about Violet's grandparents dying off before the wedding can be held is overplayed. There are nice moments around the edges – underused Jacki Weaver as her mother has a few choice scenes and Brian Posehn as Tom's sandwich-making buddy Tarquin offers up some nicely random crudeness – but the film feels like it should be much tighter and more focused.
Certainly there are moments to enjoy in The Five-Year Engagement and there is no denying just how good Jason Segel and Emily Blunt are, it is simply that the film doesn't fully fit together…which is a shame because at heart the elements are all there.
Production companies: Universal, Relativity Media, Apatow/Stoller Global Solutions
US Distribution: Universal
Producers: Judd Apatow, Nicholas Stoller, Rodney Rothman
Executive producers: Richard Vane, Jason Segel
Screenplay: Jason Segel, Nicholas Stoller.
Cinematography: Javier Aguirresarobe
Editors: William Kerr, Peck Prior
Production designer: Julie Berghoff
Music: Michael Andrews
Main cast: Jason Segel, Emily Blunt, Chris Pratt, Alison Brie, Rhys Ifans, Kevin Hart, Mindy Kaling, Randall Park, Brian Posehn, Jacki Weaver, Chris Parnell, Dakota Johnson