Dir: Jang Hun. South Korea. 2011. 133mins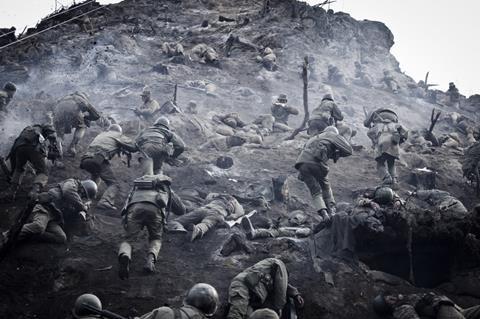 Up and coming director Jang Hun delivers vivid action and an emphatic message in The Front Line (Gojijeon), a classically styled war drama that was a hit in its home market last summer, went on to win the country's top award and is now South Korea's submission for the foreign language film Oscar.
The action is captured in impressive documentary-style cinematography by Kim Woo-hyung.
Award season attention should help the film - acquired for the US by Well Go, which is planning a January theatrical release - find an audience in the Korean diaspora. Reaching a broader international audience, though, will be tricky: standing out in an Oscar field littered with war dramas won't be easy and the 1950s Korean War context may be too specific to spark the interest of many Western cinemagoers.

The action takes place during the war's final months. While the generals are negotiating the fine points of a cease-fire agreement, a war weary South Korean battalion fights with its North Korean counterpart over a scrubby hill that changes hands with bloody regularity.

A young lieutenant (played by Shin Ha-Kyun, from Park Chan-wook's Thirst) is sent to investigate reports indicating a spy in the battalion. What he finds is an old college friend (Ko Soo, last seen in Haunters) who has become a cynical fighting machine and a ragtag group of soldiers who have more in common with the enemy than with their commanders.

Clearly influenced by American war films including Platoon and Saving Private Ryan, Jang (who previously made a mark with Secret Reunion and Rough Cut) at first focuses on the drudgery and futility of war, finding dark humour and touching drama in the battalion's struggle to survive.

The pace lags a bit during the film's episodic mid section but picks up for a tragic climax dominated by close and sometimes grisly combat between soldiers with a shared national culture (the American, UN and Chinese forces that also fought in the war are barely glimpsed).

The action is captured in impressive documentary-style cinematography by Kim Woo-hyung, who previously shot The Warrior's Way.

Production company: TPS Company
International sales: Showbox/Mediaplex, www.showbox.co.kr
Producer: Kim Hyun-chol
Screenplay: Park Sang-yeon
Cinematography: Kim Woo-hyung
Production designer: Ryu Seong-hie
Editors: Kim Jae-bum, Kim Sang-beom
Music: Dal Pa-Lan, Jang Young-kyu
Website: www.frontline.co.kr
Main cast: Shin Ha-kyun, Ko Soo, Ryu Seung-soo, Kim Ok-vin