Dir. Derrick Borte. US. 2009. 93 mins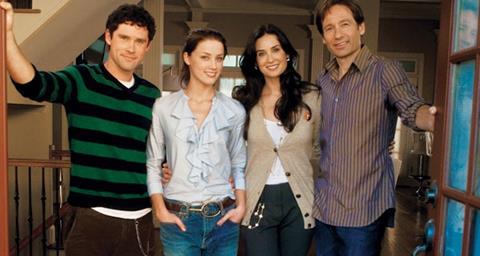 A brash satire on all-American consumerism, The Joneses takes a smart idea and develops it into an entertaining, modern morality tale. There is an obvious conclusion that the accumulation of material goods does not guarantee happiness and the preachy ending grows a little soft around the edges. Neither David Duchovny nor Demi Moore have a strong box-office track record in recent years but positive reviews for their performances and the film's exploitable zeitgeist vibe should provide the elements of a successful theatrical release for this enjoyable, thought-provoking fare.
Debut feature director Borte reveals real flair in casting
The Joneses begins as a family of four move into a palatial suburban mansion that appears to have stepped straight from the pages of a Sunday supplement. Mom Kate (Demi Moore) and dad Steve (David Duchovny) ooze wealth, happiness and the dream lifestyle.
Their children Mick (Ben Hollingsworth) and Jen (Amber Heard) are no less perfect but it soon becomes clear that this is all too good to be true. Kate and Steve don't eat together or sleep together and Jen's behaviour towards her father is not that of a normal daughter.
You begin to suspect they may be a family of serial killers but the reality is much more original. The Joneses work for a mysterious company that pays them to become the coolest people in a community owning all the gadgets and goods that everyone else will want to purchase. They are sales people working on a whole other insidious level.
Derrick Borte's screenplay keeps you smiling as the family beguile their new circle of friends and neighbours with everything from the latest golf clubs to the flashiest cars, the best diet pills and a Tokyo toilet that becomes the new must-have accessory.
The whole concept is nicely sustained and believable throughout, never tipping into pantomime or feeling it needs to nudge the audience in the ribs with its own cleverness.
Inevitably, the complicated realities of human relationships intrude on this world of Stepford-like perfection. Everything turns messy as feelings start to get in the way of good selling opportunities and some members of the family develop concerns about the ethics of their profession.
Keeping the film to a trim running-time, debut feature director Borte also reveals real flair in casting. Duchovny's dry humour and easy manner are well suited to Steve's blandly manufactured charm. Demi Moore's stern, strictly business demeanour makes for a very convincing Kate, turning her into a latterday equivalent of Faye Dunaway's monstrous, ratings-obsessed television executive from Network.
The Joneses even has distant echoes of a Paddy Chayefsky screenplay although one in which the bile and anger have been replaced with a general air of bemusement at what has become of the American dream and why people feel the need to define themselves by the possessions they own.
The hopeful ending is something that a Hollywood filmmaker of the 1970s might have avoided but perhaps that's the price we have to pay for a promising stab at 21st century satire.
To sign up for Screen's weekly Reviews Newsletter with all the week's new releases, internationalopenings and full festival reviews delivered free to your mailbox every Friday, please click HERE
Production Company
Echo Lake Entertainment
WSG Pictures
FilmNation Entertainment

International sales
FilmNation Entertainment
646 214 7918

Producers
Doug Mankoff
Andrew Spaulding
Derrick Borte
Kristi Zea

Exec prods
Sheetal Talwar
Tom Luse
Paul Young
Peter Principato

Screenplay
Derrick Borte

Cinematography
Yaron Orbach

Prod des
Kristi Zea

Editor
Janice Hampton

Music
Nick Urata
Main cast
David Duchovny
Demi Moore
Amber Heard
Gary Cole
Lauren Hutton
Glenne Headly
Ben Hollingsworth