Dir/scr: Gerard Hurley. Ireland-US. 2011. 83mins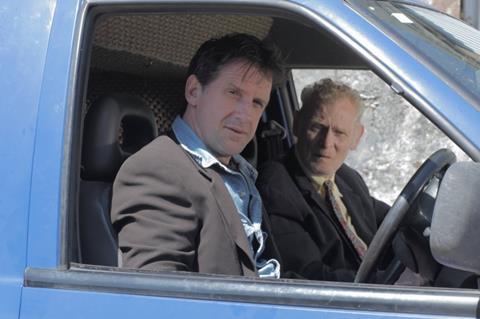 The much-told tale of father and son attempting to reconcile is given a dusting off in this good-natured Irish-set drama, which is sadly let down by plodding direction and heavy-handed technical qualities.
Veteran performer Karl Johnson can play snarling, drunken, misunderstood old Irishmen in his sleep.
Writer-director-producer-star Gerard Hurley is not bad when in front of the camera, but seems unable to give the film enough quality to make it stand out, despite the intriguing casting of experienced actress Lili Taylor and the listing of Hollywood veteran Jim Stark as executive producer. He never resorts to clichéd Irish 'blarney', which is to be praised.
Hurley plays US-based Jack McCarthy who returns to the small coastal Irish village where he was brought up when his told that his father Frank (Karl Johnson) is on death's door. But not only is father alive and kicking, but he wants his son to help him doorstep old friends and neighbours who he claims owe him money.
Angry with his father, but with no money to get back to the US, Jack finds temporary solace with visiting American Grace Ross (Lili Taylor), who for some reason is modestly charmed by this chap who wanders up to her on the beach and starts chatting.
After she leaves for the US, Jack is left with his father, though the script offers little in the way of surprises as the mis-matched pair grudgingly get to know each other and discover a faint bit of affection.
As an actor Gerard Hurley is solid but rather uninspired, instead leaving the real thesping to veteran performer Karl Johnson, a regular on film and – especially – TV in the UK, and who can play snarling, drunken, misunderstood old Irishmen in his sleep. Lili Taylor – nice though it is to see her – is given very little to do, and for someone so talented is shockingly wasted.
The Pier's real problem lies with the technically clumsy HD cinematography, which makes everything look poor television, despite that fact that the locations are quite spectacular.
Production companies: Black Equus Films Ltd., Irish Film Board
Producer: Gerard Hurley
Executive producer: Jim Stark
Cinematography: Jesse Cain
Editor: Frank Reid
Music, Maurice Seezer
Main cast: Karl Johnson, Gerard Hurley, Lili Taylor, Mary Foskett