Dir: Julia Dyer. US. 2012. 83mins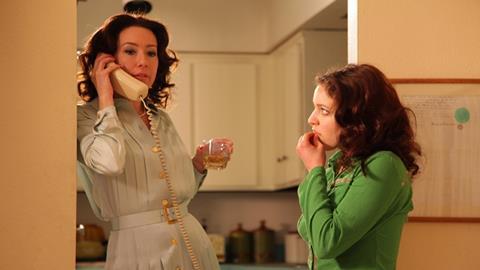 This elegantly structured family drama is a gripping, at times amusing and even oddly tender story of how four children do their best to deal with one terrible night in their young lives. Beautifully performed and directed with a good deal of thought and compassion, The Playroom deserves to find distributor and festival attention.
The film is a perfectly formed family drama.
Though John Hawkes (who starred in The Surrogate and Winter's Bone) and Molly Parker are the titular stars of the film, in truth the four young performers who make up the Cantwell children are the moving heart of The Playroom, and they give fine performances as youngsters forced to tackle the childish behaviour of self-obsessed parents.
Set in 1970s American suburbia, the film focuses on the four children – vulnerable but organised Maggie (Olivia Harris), Christian (Jonathon McClendon), Janie (Alexandra Doke) and youngest boy Sam (Ian Veteto) – who are efficient at looking after themselves and even clearing up after their parents. They arrive back from school, tidy up the sitting room and set about doing their homework.
First home is their mother Donna (Molly Parker) who reaches for the bottle before looking to her children, and while father Martin (John Hawkes) is more compassionate towards them he is also distracted. When Clark and Nadia Knotts (Jonathan Brooks and Lydia Mackay) arrive for a drunken game of bridge the four children vanish upstairs to the playroom where they gather round a flickering light to tell stories.
As the alcohol flows Donna's drunken frustrations with her marriage come to the surface (as well as revelations about her relationship with Clark). The children either watch from the top of the stairs or sit together in their playroom as Maggie tries to distract the younger ones from the realities of what is happening downstairs.
The Playroom offers up the vision of a family seen very much from the children's perspective, with the major focus on Maggie (facing her own coming-of-age issues as she teeters between childhood and becoming a young woman) as her younger siblings variously enable or obstruct her personal journey.
Familiar in tone to The Ice Storm and Revolutionary Road, the film is a perfectly formed family drama (in fact its structure could work just as well as a theatre production), delightfully performed and gently moving.
Production companies: Red Mountain Entertainment, Ten96 Films, Circle of Confusion, One Mind
International sales: BGP, bill@bgpfilms.com
Producers: Angie Meyer, Stephen Dyer, Steve Leary
Executive producers: Don Stokes, Lawrence Mattis
Screenplay: Gretchen Dyer
Cinematography: Russell Blair
Editor: Michael Coleman
Production designer: Robert Winn
Music: Bruce Richardson
Main cast: John Hawkes, Molly Parker, Oivia Harris, Jonathon McClendon, Alexandra Doke, Ian Veteto, Jonathan Mackay, Lydia Mackay, Cody Linley