Dir/scr: Jamie Kastner. Canada. 2012. 85mins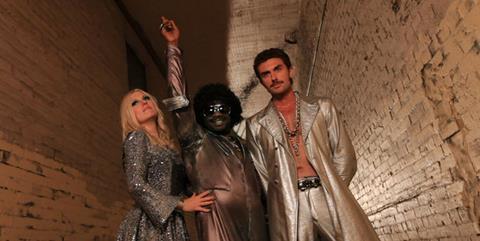 Despite its glossy veneer of nightclubs, glitter and vibrant music, Jamie Kastner's at times thoughtful documentary attempts to put forward the thesis that the true aim of Disco was to "liberate gays, blacks and women" from a conservative rock dominated world.
The end of the era is deemed to be the success of Saturday Night Fever, which was so popular it brought about overkill.
The film's portentous voice-over (by Peter Keleghan) tracks the history of Disco, with plenty of heavy-weight talking heads chipping in to both track the emergence of the music that defined the 1970s as well offer an intellectual view of its context in terms of social consciousness and disenchantment in the US in the late 1960s and allowed it to develop.
As the voice-over states…in the 1950s it was folk and Civil Rights and in the '60s it was Woodstock and Vietnam – then came Disco, with its "uniforms" and "formation of a secret army" (through dance). According to the film there is so much more to Disco than its "vapid veneer".
At time the interviews can cause the film to stumble as academics (such as academic and author Alice Echols) sit alongside enthusiastic DJs, but while there are some astute insights into the development, appreciation and power of Disco if things lag there are always some great found-footage from the clubs or various music tracks to pep things up.
In 1972-73 there was no word "Disco", people talked about going to the club, but when New York magazine wrote an article about The Loft club and used the word for the first time and the music revolution was poised to take off. Clubs and DJs offered a new way of promoting music – much to the chagrin of radio stations – which finally prompted Billboard magazine to take things seriously.
From Donna Summer and her Love To Love You Baby album (aimed for extended dancing and extended lovemaking) through to The Village People (who crop up at towards the end of the film to engagingly poke fun at pretentious analysis of Disco), the film charts a choppy course through the 1980s. The end of the era is deemed to be the success of Saturday Night Fever, which was so popular it brought about overkill.
The story is intercut with three actors (Reg Taylor, Kito Lightbourne and Julia Hladkowicz) playing mythological "Disco Masterminds," who orchestrate the genre's rise. Sadly this affectation hampers rather than helps the film that is often too scattershot in its topics and interviews to completely work.
Luckily The Village People arrive to save the day (at least until the return of rock and the arrival of punk in the 1980s) and re-establish the sense of fun and music that drives the story.
Production companies: Telefilm Canada, Rogers Group of Funds, Bell Media, Cave 7
International sales: Entertainment One
Producer: Jamie Kastner
Cinematography: Derek Rogers
Editor: Greg West
Production designer: Marian Wihak
Music: David Wall, Jamie Shields, Adam White
With: Alice Echols, Henri Belolo, Larry Harris, Michael Musto, Harry Wayne "KC" Casey, Gloria Gaynor, Thelma Houston, the Village People, Nicky Siano, the Trammps, Martha Wash, Julia Hladkowicz, Reg Taylor, Kito Lightbourne