Dir: Nick Love. UK. 2012. 107mins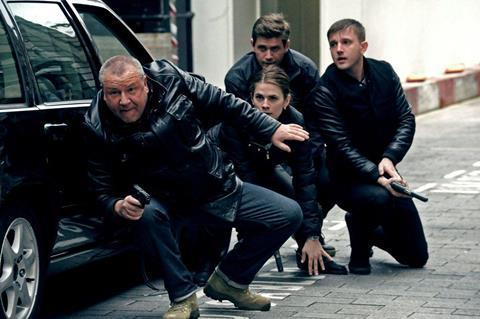 A seriously muscular and stylish bit of cops-and-robbers action, British crime drama The Sweeney delivers adrenalin-pumping thrills'n'spills as a tough team of London police take violent measures to try and get crime off the streets. Aimed very much as a solid mainstream release, it also has the humour and cinematic moves to appeal to festivals, especially those with a genre edge.
The film is directed with a good deal of panache by Nick Love.
Picked up by eOne for multiple English-language territories, the film is set to open in the UK on September 12. Based on a hit British television series from the 1970s, The Sweeney will strike a chord in territories where the series (which ran into four seasons and two spin-off feature films) was transmitted, though this new version is non-period and resolutely set in the modern day.
The casting of rugged British actor Ray Winstone as head of the London police's Flying Squad team (the title derives from 'Sweeney Todd', which is Cockney rhyming slang for 'Flying Squad') Detective Inspector Jack Regan works well, with him easily stepping into the shoes of acclaimed actor John Thaw who played the character in the original series and films.
Shrewd casting sees important roles for Hayley Atwell (seen in Captain America: The First Avenger) and Damien Lewis (feted recently for TV series Homeland), while British rap star Ben Drew (aka Plan B) takes on the key role of Regan's sidekick, Detective George Carter (played by Dennis Waterman in the 1970s.)
The film is directed with a good deal of panache – and making the very best of a striking series of London locations, aided by lustrous cinematography by Simon Dennis – by Nick Love (who made impressive crime film The Business, and most recently The Firm), and while there is nothing overly new in terms of the story there is a real awareness of the cop movie genre as well as an underlying sense of affection for the style and format of the original series.
In the original series, the Sweeney team were based out of a London police station, but resorted to violent tactics – and carried guns – as they specialised in tackling armed robbery and violent crime in the city. The 2012 version of the squad still tackle violence with violence, but are based out of a high-tech skyscraper office aimed at reflecting a contemporary spin.
The squad is overseen by Frank Haskins (Lewis), who set up the team, recruited Regan and spends much of his time fighting off official criticism of the violent tactics they use. As they set about investigating the rumours of a bank robbery and also have to look into the murder of a woman during a jewellery store robbery they find out that they are to be investigated by internal affairs, led by Ivan Lewis (Steven Mackintosh).
This complicates things even more for Regan, given that he is having a secret and passionate affair with Lewis's wife Nancy (Atwell), who happens to be part of the Sweeney team.
The team initially target well-known villain Francis Allen (an impressive Paul Anderson) for the robbery, but just as his alibi proves to be watertight they get caught up in the bank robbery. This allows Love to have his Michael Mann moment as the squad gets involved in a wonderfully staged shoot-out across London's Trafalgar Square that owes a debt of gratitude to Mann's stunning robbery/shoot-out sequence in Heat.
With his team decimated and the bank robbers on the loose, Regan is stripped of his gun and badge, but takes the law into his own hands as he follows up on leads and is eventually arrested and thrown into prison. It is left to Carter to decide whether he follows orders or sides with his mentor.
In one of his first screen roles, Winstone featured in a 1976 episode of The Sweeney titled Loving Arms (season three, episode 11) playing 'second youth'. He is now appropriately tough and grizzled to play Regan, and is just the commanding figure the film needs. He also has perfect comedy timing, which helps bring out the film's few moments of humour – that often revolve around Regan's expansive midriff.
Against all the odds, his relationship with Nancy Lewis manages to convince. There is a certain age difference between Winstone and Atwell, but she looks at him with such convincing affection that the film gets away with the romance sub-plot. Even the sex scenes are funny and oddly tender rather than embarrassing.
Hayley Atwell is a charismatic presence and gives the film a dose of class amidst the male posturing, while equally strong is Damien Lewis who has the right amount of gravitas to convince as the tough-but-fair head of the squad.
Ben Drew, who had small roles in a series of British films including Adulthood, Harry Brown and 4.3.2.1., may lack a real film star dynamism, but he has a gritty intensity as well as real on-screen chemistry with Ray Winstone and will likely continue to grow as a screen performer.
When the film works best it is when it comes to the sleek and cool overhead shots of a burnished and modern London and when the team are speeding around looking for the bad guys. The climactic car chase scene staged in a caravan park may lack the sense of a real grandstanding finale, but it nicely links back to the tone of the original format. Should the film work with audiences and at the box office, a sequel would seem a highly likely prospect.
Production companies: Vertigo Films, Embargo Films
International sales: Protagonist Pictures, www.protagonistpictures.com
Producers: Allan Niblo, James Richardson, Rupert Preston, Christopher Simon, Felix Vossen
Screenplay: Nick Love, John Hodge
Cinematography: Simon Dennis
Editor: James Herbert
Production designer: Morgan Kennedy
Music: Lorne Balfe
Main cast: Ray Winstone, Ben Drew, Hayley Atwell, Steven Mackintosh, Damian Lewis, Paul Anderson, Alan Ford, Caroline Chikezie, Allen Leech, Ronnie Fox, Michael Wildman, Steven Waddington, Kevin Michaels, Kara Tointon, Tayo Walker-Allen