Dir: Christian Sønderby Jepsen. Denmark. 2011. 88mins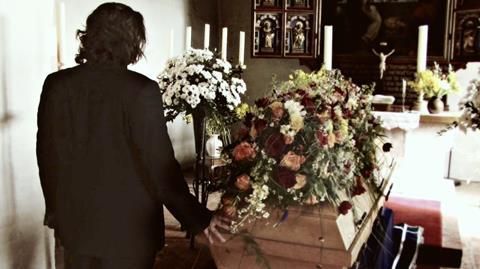 Money is always a perfect subject for documentary work and the prospect of a hefty inheritance and possibility of how it can change a life makes for gripping viewing in Christian Sønderby Jepsen's The Will (Testament), a film that deserves to find attention from distributors and broadcasters. The film screened at the CPH: DOX and IDFA documentary film festivals.
The Will is an absorbing and oddly entertaining film.
Thirtysomething Dane Henrik Ernst Steffensen is looking forward to receiving a large inheritance from his grandfather, head of a successful family hotel business. Both he and his older brother Christian are struggling with drug and alcohol problems and are completely broke…plus Henrik is having problems with his partner Ceci.
The inheritance can change everything in their lives, or so the brothers believe, but after attending the funeral they start to find that things are far more complicated than they imagined and they find themselves embroiled in family disputes and legal battles as they have to fight for what they believe is theirs.
Director Christian Sønderby Jepsen – aided greatly by Henrik's video diary – impressively explores the complexities of the lives of this pair, delving into their childhood and fractured relationship with their parents. They live a life of booze and drugs – spending as much time tending to growing weed and playing with their cats - as their legal issues, but as the film develops Henrik gradually comes to realise he has to change his life.
A central section that features pictures from a sex-holiday he had in Thailand with his father and features graphic material will likely have to be cut or censored for any television broadcast, but these scenes add weight to Henrik's complex past – and when he marks a determination to change by cutting off his long hair and staging a bonfire of relics of his misspent past the film is oddly moving.
The film heads towards a sense of hope for Henrik as monies finally come through…but it is all at a cost in terms of family relationships, with even him and Christian arguing over their pot plants.
The Will is an absorbing and oddly entertaining film, impressively shot and edited and offering a fascinating insight into a family torn apart by money.
Production company: Copenhagen Bombay Bully, DR TV
Sales contact: Copenhagen Bombay Sales, www.copenhagenbombay.com
Producer: Julie Pedersen
Executive producer: Sarita Christensen
Screenplay: Rasmus Stensgaard Madsen
Cinematography: Christian Sønderby Jepsen, Henrik Ernst Steffensen
Editor: Rasmus Stensgaard Madsen
Music: Jonas Colstrup
Website: www.facebook.com/thewilldocumentary