Dir/scr: Dominga Sotomayor. Chile-Netherlands. 2012. 92mins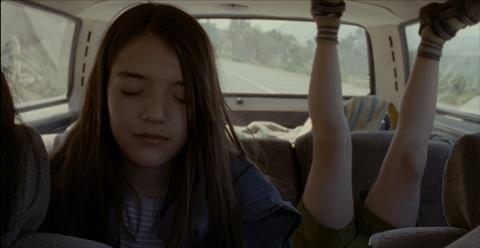 A claustrophobic yet oddly dramatic family road trip – especially when seen largely through the eyes of a child – makes for a subtle and gently moving debut film from Dominga Sotomayor that had its world premiere in competition at the Rotterdam Film Festival.
The film is made, though, by the open and honest performances by the two young leads.
The thrills may just be childlike ones – like hanging onto the car's roofrack as it bounces along a dusty road – but the atmosphere of a tense family journey amount to an impressively controlled drama that develops at ease offering only hints and clues to the reasons for the tension in the car. Thursday Through Sunday (De jueves a domingo) has the right qualities to be a film festival regular, though may be a tougher theatrical release.
A nicely staged opening scenes sets the stage quite perfectly. Early in the morning 10 year-old Lucia(Santi Ahumada) is woken and carried to the family car, observed by a static camera that sees father Fernando (Francisco Perez-Bannen) loading the vehicle and mother Ana (Paola Giannini) quietly asking he husband if he's sure he wants her to go. It is the first clue to parents trying to hold their marriage together.
The road trip through Chile is supposedly to find some land owned by Fernando's father, but for Fernando it is clearly a way of trying to hold the family together. Lucia is clearly aware there is something wrong, while her seven year-old brother Manuel (Emiliano Freifeld) is mainly intent on having fun.
As seen from the backseat the tense conversation and increasing silences between the parents are worrying for Lucia, and a supposedly accidental meeting with single father Juan (Jorge Becker), a friend of Ana, does little to help the atmosphere. Especially when it is clear she is so much happier when he is around.
As with so many road trip films, the story is about the journey rather than any kind of resolution. There are no answers reached as the family meander through motels and campsites, but the subtle visuals emphasise the growing apart of the adults. Astute cinematography by Barbara Alvarez (shooting on 16mm film rather than digital) helps define the atmosphere, while Sotomayor directs with calm assurance.
The film is made, though, by the open and honest performances by the two young leads, both newcomers. Young Emiliano Freifeld is responding rather than acting (so credit due to those around him), but he is a perfect counterbalance to Santi Ahumada's gently intense performance as a girl torn between wanting to be aware of what is happening with her parents and wanting to be a child on a road trip.
Production companies: Forastero, Cinestacion, Circe Films
International sales: FiGa Films, http://figafilms.com
Producers: Benjamin Domenach, Gregorio Gonzalez.
Co-producers: Stienette Bosklopper
Main cast: Santi Ahumada, Emiliano Freifeld, Francisco Perez-Bannen, Paola Giannini, Jorge Becker, Axel Dupre
Cinematography: Barbara Alvarez
Editors: Danielle Filios, Catalina Marin
Production designer: Estefania Larrain
Music: Diego Fontecilla, Elisa Arteche
Main cast: Santi Ahumada, Paola Giannin, Francisco Perez-Bannen, Emiliano Freifeld, Jorge Becker