Dir: Tadeu Jungle. 2011. Brazil. 78mins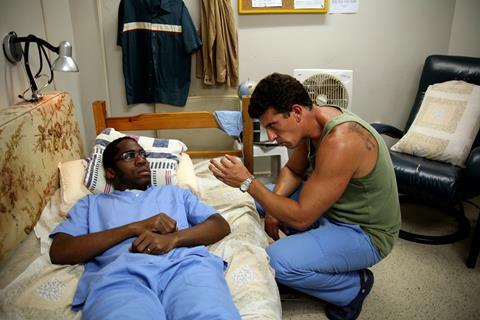 When the seemingly simple task of picking up his daughter's birthday cake goes wrong, a middle-class man finds his life spiraling out of control as he drives through nighttime Sao Paulo as he tries to get his life back on track.
Lazaro Ramos offers up the right amount of stressed angst as put-upon Walter.
Tomorrow Never Again (Amanha Nunca Mais), which had its world premiere at the Rio International Film Festival, is a nicely staged drama that feels long despite its modest running time though is held together thanks to an impressive lead performance by Lazaro Ramos.
The opening nighttime shots of a car driving through the Sao Paulo streets hint at what is to come, though the films sets out the dilemma of Walter – a black middle-class anesthetist – as he is put upon by his mother-in-law while on a trip to the beach; has suspicions about his wife Solange (Maria Luiza Mendonca ) and is harassed by his bosses and co-workers at the hospital.
With doctors insisting he keep on working through the nightshift, Walter eventually rebels and heads off into the night. He comes across a variety of strange people and odd incidents – a young woman at the cake shop flirts with him; there is a car crash, and a highly strung woman he gives a lift to insists on taking him to a party that he can barely get away from.
For Walter it is a night of mistakes, tough decisions and ultimately a way of finding some kind of peace. It is a tough journey for a man stressed by all around him, but one that eventually offers hope and fulfillment. Lazaro Ramos offers up the right amount of stressed angst as put-upon Walter as his extraordinary night takes him to a kind of hell and back again.
Production company: Academia de Filmes/Margarida Films
Producer: Paulo Roberto Schmidt
Screenplay: Mauricio Arruda, Marcello Muller, Tadeu Jungle
Cinematography: Ricardo Della Rosa
Editors: Estevan Santos, Jon Kadosca
Music: Andre Abujamra, Marcio Nigro
Main cast: Lazaro Ramos, Maria Luiza Mendonca, Milhem Cortaz, Fernanda Machado, Paula Braun