British director Iain Softley tells Screen about his latest feature, a psychological thriller set in London and the South of France, starring upcoming Brit actresses Tuppence Middleton and Alexandra Roach which is being sold internationally by Ealing Metro.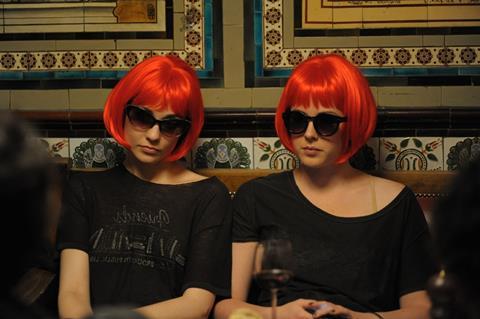 Synopsis: A psychological thriller about obsession and identity centring around two childhood friends from different backgrounds, whose lives become intertwined, resulting in a deadly climax in the South of France.
Director: Iain Softley, whose credits include the Oscar-nominated The Wings Of The Dove and more recently The Skeleton Key and Inkheart.
Softley has also written the script, based on the novel of the same name by Sebastien Japrisot
Producers: A co-production between Forthcoming Films (the production company run by Iain Softley and wife Sarah Curtis) and Robert Jones' The Jones Company, with Dixie Linde.
Cast: Tuppence Middleton (Chatroom), Alexandra Roach (soon to be seen as the young Margaret Thatcher in The Iron Lady and a Screen Star of Tomorrow), Kerry Fox, Alex Jennings, Aneurin Barnard, Stanley Weber, Frances De La Tour and Emilia Fox.
Financing: UKFC (now BFI) Prescience, Lionsgate UK, LipSync.
International sales: Ealing Metro, (the newly combined sales company set up by Ealing Studios and Prescience).
Distributors: Lionsgate (UK), Square One (Germany)
Shoot dates: May 2011 - three weeks in the East End of London (all on location except for one day at Three Mills Studios) and two and a half weeks in Provence in the South of France.
Release: 2012
What's next? Softley will direct Ivanhoe for Egoli Tossell.
On the origins of the project: I first read the novel [by Sebastien Japrisot] about 10 years ago. Other films came and went and it never quite came together and then after my last film I just thought, this is going to be my next film. There had been other writers attached, but I felt that the film I wanted to make was a more personal film, I saw the type of film and characters so clearly that I thought the easiest thing to do was me to write it.
On adapting the novel: It was very challenging but very enjoyable. The book is set in the '60s. I did a draft in the '70s, but then I moved it to the present day originally for financial reasons. But it actually resulted in the right creative conclusion. The film became more naturalistic because it's about now and it takes place partly in a city I live in. It feels more authentic.
On financing the film: The UK Film Council has had a long term supporting role in this, starting with Sally Caplan, then subsequently Chris Collins and Tanya Seghatchian and we got development funding and production funding from them. Prescience and Lionsgate came onboard next, they were long term supporters of the project. LipSync came on as an equity partner.
On the shoot: We had a very small crew, we didn't have trailers, we were very light on our feet and we shot at Super 16 which made us very mobile. It affected the speed and the freedom we had, particularly in London, to shoot on the streets without all the paraphernalia. We shot in real locations often with members of the public in the back of the shot.
In France, we based ourselves in the villa which is where the finale of the film takes place. We were able to find locations in the grounds, so we were almost able to treat it like a back lot. Not a bad back lot!
On potential comparisons with Black Swan: People might make comparisons to Black Swan, in that it's a psychological thriller involving female protagonists and the themes of obsession and identity. There are probably more similarities with Hitchcock films like Vertigo. But we hope that, like Black Swan, the audience will be wider that just the psychological thriller audience, which tends to be a little bit older, because these are young girls, in contemporary London with a contemporary soundtrack.
On casting the two leads, Alexandra Roach and Tuppence Middleton: At different times the budget was higher, and we had different financiers who wanted us to pick people from smaller lists. But then things changed and Robert, Dixie and I put it to our financiers that if we were to make the budget as low as possible, we could make the best film by having the freedom to cast the best people. And everyone signed up to that which was fabulous. It was a long process and we saw many actresses, but we settled on Tuppence and Alexandra. They are superb. I think it will be a break out film for both of them.