Dir/scr: Jannicke Systad Jacobsen. Norway. 2011. 76mins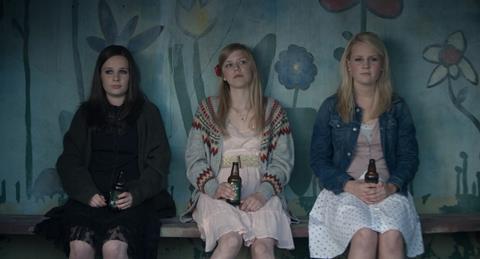 Stylish Scandinavian sexiness bubbles to the surface in Turn Me On, Goddammit (Fa meg pa, for faen), a smart comedy tale of adolescent eroticism that could well appeal to art-house distributors looking to stir-up their release schedule. It lacks the sombre tone of usual art-house foreign language releases – and comedies by their nature rarely travel well – but it is breezy, amusing and clever.
It is a thoroughly charming tale of Scandinavian teen sexuality.
Directed, written by, Jannicke Systad Jacobsen (and based on a novel by Olaug Nilssen) the film is snappily shot and engagingly candid, and likely to be a regular feature at international film festivals following its Tribeca premiere.
Hormonal teens Alma (Helen Bergsholm) and her best friend Sara (Malin Bjoerhovde) live in the Western Norwegian town of Skoddeheimen, where they have the usual teenage problems with boys, parents and life in general. In fact, sex is the key them on Alma's mind – calling up phone-sex lines and almost getting caught masturbating on kitchen floor by her mother (Henriette Steenstrup, also a co-producer).
Her sexual fantasies and determined flirtations with local boy Artur (Matias Myren), though her liaison with him leads to troubles with sister Ingrid (Beate Stoefring) who also fancies Artur and who starts a smear campaign against Alma.
Elegantly shot by Marianne Bakke, the film revels in its genial rural humour and smouldering sexuality, with Helen Bergsholm a delightfully imaginative and feisty figure. Turn Me On, Goddammit is rich with quirky humour and engaging performances as it favours frank honesty and compassion for its young characters rather than poking fun at them or being overly prurient.
It is a thoroughly charming tale of Scandinavian teen sexuality – refreshingly told from the female perspective rather than the simplistic displays of young male lust more common in Hollywood variations on the theme – and a smart and enjoyably made film.
Production company: Motlys
International sales: Celsius Entertainment, celsiusentertainment.wordpress.com
Producers: Brede Hovland, Sigve Endresen
Co-producers: Frida Ohrvik. With: Helene Bergsholm, Malin Bjoerhovde, Beate Stoefring, Matias Myren, Henriette Steenstrup
Cinematography: Marianne Bakke
Editor: Zaklina Stojcevska
Music, Ginge Anvik
Main cast: Helen Bergsholm, Malin Bjoerhovde, Matias Myren, Henriette Steenstrup