Dir/scr: Francis Ford Coppola. US. 2011. 88mins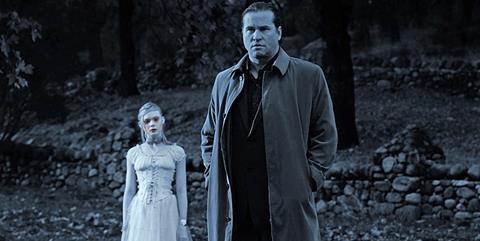 Twixt is made by director Francis Ford Coppola at his most playful and idiosyncratic. It is an oddball recipe blending witchcraft thrills and B-movie horror, with a dash of knowing humour on the side and the quirky use of two 3D sequences to make it a concoction that will either delight or bemuse.
Twixt is an engaging oddity.
The strong cast – it includes Val Kilmer, Bruce Dern, Ben Chaplin and Elle Fanning – and horror credentials might mean it has a stronger chance at clicking at the box office than recent films Youth Without Youth and Tetro, though the need for 3D glasses for just two scenes makes its release more complicated. But Coppola should be applauded for showing his sense of humour and technical panache are still intact.
It may be argued that this is Coppola going back to his roots as a Roger Corman apprentice – the story revolves around Edgar Allan Poe, a contemporary horror writer, and a culty motorcycle gang – but in truth this is more about a director who can do what he likes going out there and making a movie that hits the right chords for himself.
And casting Val Kilmer as failing horror writer Hall Baltimore was a very smart move. Kilmer can be an acquired taste these days, but he handles the self-depreciating humour delightfully and seems to enjoy himself in one of his oddest of roles.
Baltimore is on book tour at remote venues where nobody comes for his signings, and checks himself into hotel where writer Edgar Allan Poe once stayed, and where – legend has it – murdered school children are supposed to be buried underneath the building. He dreams about one of the children, 12 year-old V (Elle Fanning), and also dreams and encounter with Poe (Ben Chaplin) who is handy with his advice in dealing with Baltimore's writers' block.
When he isn't dreaming he is discussing book ideas with the town's local Sheriff Bobby LaGrange (Bruce Dern overacting wonderfully) and arguing via Skype with his wife (Joanne Whalley, who of course was once married to Kilmer). In the Sheriff's back room is a corpse with a stake through its heart, with LaGrange even resorting to a Ouija board to get clues as to the killer.
When the first five-minute 3D scene arrives after about an hour, it is signposted engagingly by a pair of 3D glasses floating across the screen. And a nifty sequence it is too, as Baltimore climbs the rickety ladders of a bell tower.
Things get increasingly confused and confusing – meant to reflect Baltimore's inability to end his own writing – as Twixt spirals towards an hysterically weird climax involving Poe, the killing of the children, a vampiric beauty and a moody motorcycle gang leader named Flamingo. The film's original working title was Twixt Now And Sunrise, which more clearly indicates that pretty much everything going on is in the realm of dream and fantasy.
Twixt is an engaging oddity. A surreal genre film make with a deep sense of humour from a filmmaker at the stage of his career who pretty much answers to no one. It is not a film for all tastes, but if you go with the flow there's a deal of oddball fun to be had.
Production company: American Zoetrope production
International sales: Pathe Intl., www.patheinternational.com
Producer: Francis Ford Coppola
Executive producers: Anahid Nazarian, Fred Roos
Cinematography: Milhai Malaimare Jr.
Editor: Robert Schafer
Music: Osvaldo Golijov, Dan Deacon
Main cast: Val Kilmer, Bruce Dern, Elle Fanning, Ben Chaplin, Joanne Whalley, David Paymer, Anthony Fusco, Alden Ehrenreich, Bruce A. Miroglio