Dir: Oscar Godoy. Chile-Argentina. 2011. 82mins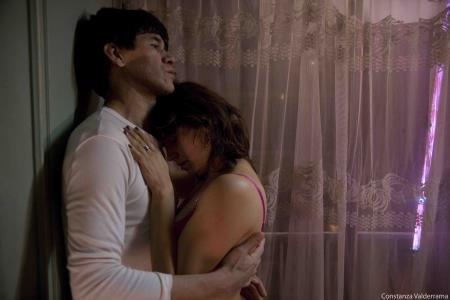 Oscar Godoy's debut feature Ulysses (Ulises) is a classic migrant's tale; Julio (Jorge Roman) may be a Peruvian man looking for a new life in Santiago de Chile, but Godoy is taking on a universal narrative here. With its alienating city scapes and anonymous shopping malls, Santiago could be any city in the world's new economies, from Guangzhou to Bangalore, likewise Ulysses is mining a cinematic seam which is intriguing, but also very familiar.
There are perhaps too many over-familiar scenarios in Ulysses.
Despite the fact that Julio is, almost by 'genre' definition, a silent figure on an internal voyage, Ulysses nonetheless has a strong-enough sense of narrative movement to underscore Godoy's points in what is ultimately an accomplished debut. This should work best as a festival discovery, where it could sit well with other explorations of the global economic 'miracle' - or nightmare.
Working with Fabula, the Chilean production company led by Pablo Narrain (Tony Manero, Post Mortem), Godoy shoots in super-16 to give Ulysses a bleakly-realistic look, in particular with some stomach-churning latter sequences set in an abattoir which are heavy going indeed.
Blood is a bookend, in fact, as Ulysses opens with Julio lying on the street; an open head wound dripping onto the pavement. We are never told exactly what has happened to him, or, in a similar vein, why he avoids questions about being married as he tries to get his residency papers.
This seemingly amiable but shut-off man is currently living on the pullout bed of family friends and working as a cleaner in a shopping mall. He has one friend, and he makes regular phone calls to his distracted mother from a phone shop.
As the viewer follows Julio around Santiago, nuggets of information are handed out - that he used to be a teacher in Peru, for example, and that he writes postcards to a woman called Araceli. There's a sense of overwhelming loneliness and alienation that grows as the film runs through its paces.
Roman (El Bonarense) is an involving actor, and he gives Julio an unpredictable vulnerability that helps paper over some narrative lags.
There are perhaps too many over-familiar scenarios in Ulysses (a tentative meal with a friendly shop assistant, for example) and an out-of-character, almost-brutal encounter with a prostitute early on, but there's also enough to cast a light on Julio's loneliness, and to whet the appetite for what Godoy might produce next.
Production companies: Fabula, Rizona
International sales: Kevin Williams Associates. www.kevinwa.com
Producers: Juan de Dios Larrain, Pablo Larrain
Screenplay: Oscar Godoy, Daniel Laguna
Cinematography: Inti Briones
Production designer: Veronica Astudillo
Editors: Sebastian Sepulveda, Nicolas Goldbart
Main cast: Jorge Roman, Francisca Gavilan