Dir/scr: Kim Nguyen. Canada. 2012. 90mins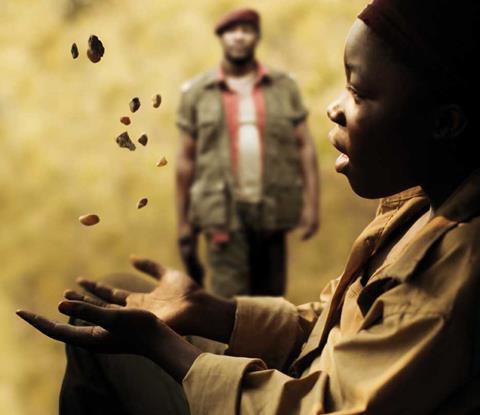 Humanity prevails over the atrocities of the African civil wars in what may well be a very dark but still over-optimistic portrait of the continent as perceived by an outsider. Canadian filmmaker Kim Nguyen went all the way to Congo to make War Witch (Rebelle), about a 14 year-old girl telling her appalling story to her unborn baby, a tale of woe all through, but despite it all, the ending offers the kind of silver lining that will allow audiences to go out relieved that, after all, things will take a positive turn. A festival item per excellence, it is bound to travel around the world, but selling it to paying audiences may not be an easy task.
The message here is supposed to be that the resilience of human spirit is stronger than all the madness and miseries it has to endure.
Horror strikes from the very beginning, when rebels enter a small village by the river, indiscriminately shooting everyone who crosses their path and then force, then 12 year-old Komona (Rachel Mwanza) to empty a Kalashnikov into her own parents, who otherwise will be killed far more painfully by the invaders.
Why exactly they had descended on the village, what caused the massacre and who they are rebelling against is irrelevant, the scene would obviously fit many African nations at war with themselves. On the way back to the rebels' camp, Komona is pitilessly beaten every time she fails at her duties and beaten twice as hard until she learns not to cry or complain. At the camp, she goes through a short rudimentary training in the course of which she is taught her rifle is her father and mother which she should love and respect above all else.
When she is the only one to survive a skirmish with the government soldiers, the rebel chief – named the Great Tiger - believes she is endowed with supernatural forces and she is enthroned War Witch, a temporary title that she might be made to pay for, if her presupposed magic powers do not bring in the desired results.
For a while she enjoys the protection of an albino boy slightly older than her called the Magician (Serge Kanyinda), and they desert the rebels and fall in love. But she would not give in to his courting unless he obeys traditions and offers her a white rooster (a rarity in Africa) for a wedding gift. After several hilarious episodes he manages to come up with the cockerel and the two of them enjoy an idyllic interlude in the village of the Magician's uncle, known as the Butcher (Ralph Prosper).
But the rebels catch up with them, they get rid of the Magician and bring their War Witch back to camp, where she is raped and forced into the custody of a brute she hates. Barbarity is everywhere as Komona, pregnant and seeking refuge, realises that neither she nor her baby will ever have any peace of mind unless she goes back to her village to bury the remains of her parents, whose ghosts keep haunting her.
Once she does this, the forces of evil seem to be appeased and the ending has her board a truck heading towards a better future, though there is room to have some doubts about it.
Komona's voiceover narrative carries the story forward and provides the links and commentaries between episodes. The mindless, bloody, gruesome revolution going on for no evident reason, spreading death and destruction around it is counterpointed by the trust everybody puts in the might of witchcraft, unnatural forces, mystic apparitions and ghoulish sights. Any intelligent political commentary is ridiculous, in these circumstances.
The message here is supposed to be that the resilience of human spirit is stronger than all the madness and miseries it has to endure. But the fact that these acts of barbarism are induced by human beings not mystic forces or violent psychotic viruses makes one wonder if this approach, intentionally limited to one single point of view of a surviving victim, is indeed sufficient to deal with this tragedy.
Kim shot his film like a documentary and the anonymity and total availability of all the performers, who ignore the camera and do not play for its benefit, contributes to the authenticity of the entire project. And then, there is the age of the main protagonists which adds to the poignancy of this portrait of a continent bent on self-destructing at all costs.
But there is no way to avoid the feeling that it is all done through the eyes of a sympathetic foreigner who will return at the end of the day to safety of his home. Stories like this have been told before – this film can't pretend to hit anyone over the head with its revelations. What's missing here, in order to raise it to a different status, is the fierce involvement that comes from someone who lives inside the picture and is therefore, personally concerned.
Production companies: Item 7, Studio Shen
Producers: Pierre Even, Marie-Claude Poulin, Kim Nguyen
International Sales: Film Distribution, www.filmsdistribution.com
Cinematography: Nicolas Bolduc
Editor: Richard Comeau
Production designer: Emanuel Frechette
Main cast: Rachel Mwanza, Alain Bastien, Serge Kanyinda, Ralph Prosper, Mizinga Mwinga