Dir/scr: Al Pacino. US. 2011. 95mins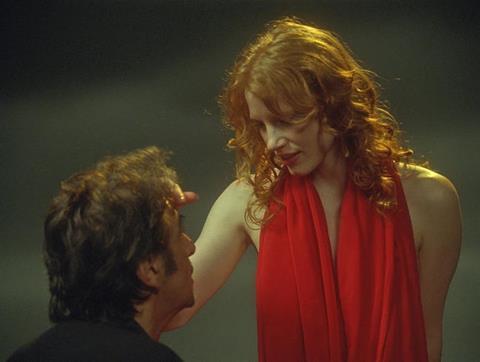 Say what you will about Al Pacino's film Wilde Salome, which meshes together his stage production, a film of that stage production, a film of him making the stage production – keep up, it gets clearer – and musings on his obsession with Oscar Wilde and Salome in particular, it is clear Al was having a whole lot of fun.
Wilde Salome is a filmed of mixed pleasures.
In truth Wilde Salome is an art house docu-drama that will appeal in main to festivals and broadcasters, but Pacino is a charismatic and intriguing figure, and it is delightful and amusing at times to see him go about his acting preparation…plus there is a niggling suspicion he is having fun with the audience as much as with the project itself.
As he did in Looking For Richard – about his obsession with Shakespeare's Richard III – Pacino shows a great interest in the more challenging of classics, and an enthusiasm for staging productions in new and different ways. With stage director Estelle Parsons he works on a staged reading of Wilde's Salome, with him as Herod and Salome played by Jessica Chastain (in a far more sultry role that she had in The Tree Of Life).
Alongside the Los Angeles stage production Pacino plans to shoot a variation of the story – with certain scenes shot out in the Mojave desert (cue Al dragging a camel) – using the same cast (most of the time), and also film himself embarking on the film and stage process. Right from the start he expresses lack of confidence in the time and money involved and also about his own focus on the productions.
Parsons and Pacino had worked on a previous staged reading in 2003, and the one filmed here was performed in LA in 2006 (hence why he refers it to being a star making performance for Chastain, who is now a hot Hollywood name), though it is never clear why the distance between that production and this film.
Equally there is footage of Pacino in Dublin in late 2006, where he collected the Honorary Patronage of the Trinity College University Philosophical Society and where he did a little investigation into Oscar Wilde. At that point his documentary had the working title of Salomaybe.
His journey to find out more about Wilde – who wrote the one-act play Salome in 1891 in Paris – also takes him to London, where in one amusing scene seeks out where Wilde lived and almost knocks the wrong door. He also features interviews with the likes of Gore Vidal and Tom Stoppard to discuss Wilde's life and influence.
As the film freewheels on its settles into the filmed coverage of the stage reading, which gets a mixed response from critics. Pacino – in modern dress – plays the role of Herod (who lusts for his set-daughter Salome) with a strange fey voice, which works at times but also grates and detracts from the drama.
Jessica Chastain comes out best of all from the proceedings. Her Salome is bold and passionate, and brimming with sexuality. Her key scene sees he writhing in a sultry and vibrant dance at Herod's feet, disrobing as the dance goes on.
Wilde Salome is a filmed of mixed pleasures, but there is no denying that Al Pacino is a watchable character. Whether it be discussing Wilde; messing about with his children; worrying about being both director and actor and expressing confusion as to what his film is about, he is never less that fascinating.
Production company: Salome Productions
International sales: Arclight Films, www.arclightfilms.com
Producer: Barry Navidi
Associate producer: Joyce San Pedro
Screenplay: Al Pacino, based on Oscar Wilde's play Salome
Cinematography: Benoit Delhomme
Editors: Roberto Silvi, David Leonard
Production designer: Nicole Ruby
Music: Jeff Beal
Main cast: Al Pacino, Jessica Chastain, Kevin Anderson, Roxanne Hart, Estelle Parsons, Lawrence Grobel, Robert Fox, Barry Navidi, Kim Brinster, Nicholas Grene, Merlin Holland, Bono, Gore Vidal, Tom Stoppard, Tony Kushner