Dir/scr: Rob Hedden. US. 2012. 100mins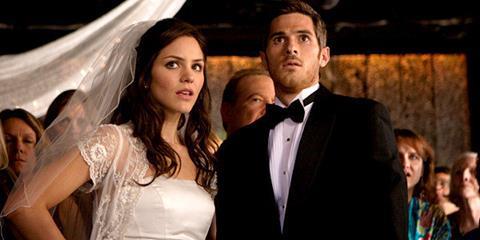 The Hawaiian scenery is the best thing about You May Not Kiss the Bride, a perky and thoroughly silly romantic/action comedy with a cast featuring a handful of recognisable names in throwaway roles.
The action-oriented second half is more lively but not very exciting.
The independent production opened this weekend in eight cinemas around the US (as well as on VOD) but takings were not reported. International prospects are negligible, though the film is innocuous enough to fill some holes on free TV schedules.
US television regular Rob Hedden (whose feature credits include Friday The 13th Part VIII) wrote and directed, and there's a definite TV feel in the story of mild-mannered pet photographer Bryan (Dave Annable, from What's Your Number) and his shotgun marriage to Croatian mobster's daughter Masha (Katherine McPhee, from TV's Smash).
The fake couple go for a fake Tahiti honeymoon and get caught up in a kidnap plot involving US immigration agents and one of Masha's dad's henchmen.
In its first half, the film relies on bad foreign accents, supposedly hilarious cat and dog shots and cheesy gags. The romantic comedy is bland one minute, farcical the next.
The action-oriented second half is more lively but not very exciting.
Annable is likeable enough as the hapless Bryan but McPhee does very little with her underwritten part. Hamming it up in more or less pointless supporting roles are Kathy Bates, Mena Suvari, Rob Schneider, Tia Carrera and Vinnie Jones.
Production companies: Hawaiian Film Partners
US distribution: Hawaiian Film Partners Distribution
International sales: Showcase Entertainment, www.showcaseentertainment.com
Producers: Ran Watumull, Gina Watumull, David A Jackson, Shaua Shapiro Jackson
Cinematography: Russ T Alsobrook
Editor: David L Bertman
Production designer: Scott Mehan
Music: Geoff Zanelli
Website: www.facebook.com/#!/YouMayNotKissTheBride
Main cast: Katharine McPhee, Dave Annable, Mena Suvari, Rob Schneider, Tia Carrere, Vinnie Jones, Ken Davitian, Kathy Bates