Dirs: Rémi Bezançon & Jean-Christophe Lie. France-Belgium. 2012. 78mins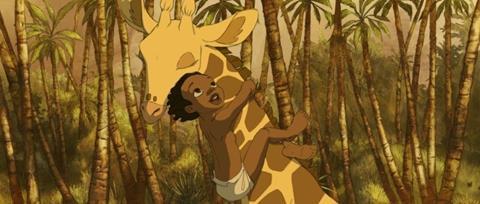 A visually splendid and emotionally satisfying animated adventure for all ages, Zarafa boasts all the ingredients (at least in an ideal world…) for international success, starting with a terrific fact-inspired story, simply yet beautifully told. Live-action director Rémi Bezançon (Love Is In The Air, The First Day Of The Rest Of Your Life, A Happy Event) does a fine job - with animator Jean-Christophe Lie co-directing - of recounting the lively tale of the first giraffe to reach France, in 1826, a gift from Egypt to the King of France. Anyone looking for quality kids' fare that adults can readily enjoy should check out this February 8 French release, which has a slot in Berlin.
Zarafa eschews 3D and heavy CGI for the solid pleasures of a more traditional 2D approach.
In addition to being consistently entertaining, the film is instructive without preaching. Instances of friendship, courage and ingenuity in the face of adversity are winningly dosed, as people of different races and customs mingle in convincing ways. French-language voice talent is top-notch but the narrative should lend itself to easy adaptation into other tongues.
A rapt gathering of youngsters at the foot of a baobab tree in a contemporary African village listens as a wise old man (Vernon Dobtcheff) narrates the story using small wooden effigies of all the characters as visual aids. It's a smart device to help young viewers keep straight the various strands, at least one of which slyly introduces the spiritual implications of reincarnation. The bulk of what's on screen is set in the 1820s.
Ten-year-old African boy Maki (Max Renaudin) makes a dramatic escape from ruthless slave trader and tomb raider Moreno (Thierry Frémont). When baby giraffe Zarafa is orphaned, Maki makes a solemn promise to watch out for her. So, when taciturn Bedouin Hassan (voiced by Simon Abkarian and modeled on both Maurice Bejart and Han Solo, per Bezançon!) sets out to deliver the giraffe as a gift to far-off France, doggedly intrepid Maki finds a way to tag along. Zarafa is a diplomatic offering meant to inspire the King to come to the aid of Alexandria, under siege by the Turks.
From the Sudanese desert to Alexandria, across the Mediterranean to Marseilles and by foot (and hoof) the rest of the way to Paris - including a dramatic passage in the snowy Alps - Maki, Zarafa, Hassan, two milk cows and hot air ballooning French explorer Malaterre (François-Xavier Demaison) share adventures that sometimes embroider the historical facts but do so in the service of solid storytelling.
Bouboulina (Ronit Elkabetz), an authentic lady pirate from Greece who's the measure of any man and the strong leader of her motley all-male crew, is a highlight.
When projectile dung from a hippopotamus sprays young Maki, it's not only a funny moment but also the set-up for a key incident almost one hour and thousands of miles later.
There's plenty of suspense and the story treats the occasional death with finesse, plus the widescreen backdrops convey much of the grandeur Jean-Jacques Annaud was aiming for in Black Gold.
Lie has worked with Sylvain Chomet (on The Triplets Of Belleville), which is pleasingly evident in the caricatural renderings of not-overly-bright King Charles X and his retinue. The animators have fun with the "giraffe mania" that spread through French society and fashion once Zarafa arrived.
The appealing score is never overbearing and, like the tale itself, deftly avoids the facile and saccharine elements that mar so much kiddie fare. Two years in the making, with talent from eight animation studios, Zarafa eschews 3D and heavy CGI for the solid pleasures of a more traditional 2D approach. One has to admire how well the filmmakers incorporate a very vertical creature into the widescreen frame.
Production companies: Prima Linea Productions, Pathé Production, France 3 Cinema, Chaocorp, Scope Pictures, Le Parti
International sales: Pathé International, www.patheinternational.com
Producers: Valerie Schermann, Christophe Jankovic, Vivien Aslanian
Screenplay: Remi Bezançon, Alexander Abela, Jean-François Halin, Vanessa Portal
Storyboard: Rémi Bezançon and Jean-Christophe Lie
Animation director: Yashimichi Tamura
Editor: Sophie Reine
Music: Laurent Perez Del Mar
Main voice cast: Max Renaudin, Vernon Dobtcheff, Thierry Frémont, Simon Abkarian, Ronit Elkabetz, François-Xavier Demaison, Mohamed Fellag, Roger Dumas, Deborah Francois