Dir: Matt Chow Hoi Kwong. Hong Kong. 2015. 84mins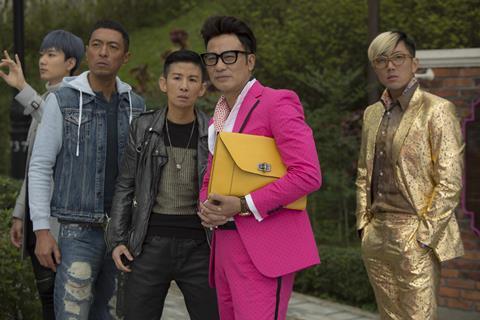 Sandra Ng looks to recapture the comedy and box office gold of her hugely lucrative Golden Chicken series with this cheeky peek at the male end of the Hong Kong sex trade. Re-teaming with director Matt Chow, the producer-star here trades genders to play a down-on-his-luck gigolo struggling to get his groove back and eke out a living amidst the city's ailing financial climate.
As is de rigeur for a film such as this, 12 Golden Ducks is bursting at the fly with celebrity cameos.
The best of this year's Lunar New Year offerings, 12 Golden Ducks rings in the Year of the Sheep with plenty of timely gags and familiar faces, but lacks the satirical bite of Ng's previous offerings. The bulging top-tier cast and popularity of Ng's comedic stylings should see the film perform well domestically over the holiday break, but the film is unlikely to fly overseas beyond a few festival engagements.
At a lunar new year reunion, a group of male, middle school ex-classmates confess that they all make their living from women's money - whether as a singing tutor, personal trainer, chef or estate agent. The most successful of them all is also notably absent. Future Cheng (Sandra Ng) is a male prostitute - or "duck" - who even in his school days had a remarkable knack for manipulating the fairer sex. When it is revealed that Future is now all washed up in a Bangkok knocking shop, former teacher Mr. Lo (Anthony Wong) heads to Thailand to bring him back.
On his return, Future is woefully out of shape and still nursing a broken heart, after being cheated out of his savings by a con artist couple. With the help of his old friends, an elderly new client, and a gang of new gigalo buddies - King (Simon Yam), Dick Wide (Philip Keung), Nebula (Babyjohn Choi) and Broker Chan (Wilfred Lau) - Future gets back in the game. However, times have changed and the guys find themselves operating out of a Thai restaurant during lunch hour, but in these tough times, only the most entrepreneurial and determined will survive.
While not a continuation of Sandra Ng's Golden Chicken series, 12 Golden Ducks is fuelled by the same creative energies, smutty sense of humour, and barbed dissection of the Hong Kong psyche. Directed by Matt Chow, who wrote Golden Chicken and its sequel, and directed last year's comeback instalment Golden Chicken$$$, Ng again produces, after taking over the reins from husband Peter Chan last year. Again the focus is on survival within Hong Kong's tempestuous yet opportunistic economic landscape, the big difference this time round being that Ng trades Gum's awkward strut for the masculine swagger of rent boy Future.
To the film's credit, the question of Future's gender is never raised during the film - surprising, considering part of the action takes place in Thailand, home of a booming sex-change industry. Instead, the traditional role of man as provider and benefactor is turned on its head. The economic downturn has forced men to make a living however they can, and are forced to shake off the cultural stigma of taking women's money, to fashion careers for themselves in the service industry - where women easily exceed men as the biggest spenders.
Ng and Chow know not to probe too deeply beneath the surface, however, and keep proceedings lighthearted and crude throughout. For every barbed moment of shrewd observational satire there are half a dozen smutty gags just waiting to lower the tone. Ng's comedic skills are not so much broad as they are scattershot, running the gamut from knowingly insightful to flat-out offensive, and it is perhaps because of her far-reaching approach that she holds the crown of Hong Kong's undisputed Queen of Comedy.
As is de rigeur for a film such as this, 12 Golden Ducks is bursting at the fly with celebrity cameos, whether in key supporting roles, such as Eason Chan's lisping hairdresser, Ivana Wong's Thai madam or Lo Hoi Pang's ageing duck (who goes by the name Eddie Peng Yuyan), or more blink-and-you'll-miss-em appearances, such as from Zhao Wei, Isabella Leong, Chrissie Chau and Nicholas Tse - as an intriguing ghost from Future's past. The film ends with a surprise appearance from EXO boyband member Luhan, who shows up to close the film with a spirited musical number. Apparently even his management company were unaware of Luhan's involvement in the film until after the fact, and there has been something of a legal scuffle to see him make the final cut.
Technical duties are fulfilled dutifully, if somewhat anonymously, by cinematographer Edmond Fong and production designer Man Lim Chung, neither of whom manage to conjure anything as creative as some of their past work might suggest. The score from Ngai Lun Wong and Janet Yung gives the film a jaunty vibe, again without drawing any attention to itself.
Steering clear of Hong Kong's volatile period of recent political unrest, 12 Golden Ducks nevertheless offers a contemporary perspective of the city and its survivalist spirit. Notably, the script employs surprising amounts of English and Thai throughout, as well as Cantonese, highlighting the lengths Hongkongers must go to earn a living these days, but also perhaps more tellingly showing a modicum of unspoken resistance against the city's increasingly intrusive northern neighbour. Either way, Sandra Ng still knows how to make her audience happy, which as it turns out, is also the film's final new year's resolution.
Production Company: Treasure Island Production Ltd
International sales: We Distribution Ltd
Producer: Sandra Ng Kwan Yue
Screenplay: Matt Chow Hoi Kwong
Cinematography: Edmond Fong Yuen Man
Production designer: Man Lim Chung
Music: Ngai Lun Wong, Janet Yung
Main cast: Sandra Ng Kwan Yue, Anthony Wong Chau Sang, Simon Yam Tat Wah, Babyjohn Choi, Wilfred Lau, Louis Koo Tin Lok, Lo Hoi Pang, Ivana Wong, Wyman Wong, Eason Chan, Zhao Wei, Isabella Leong, Chrissie Chau, Nicholas Tse