Dir/scr: Delphine & Muriel Coulin. France. 2011. 91mins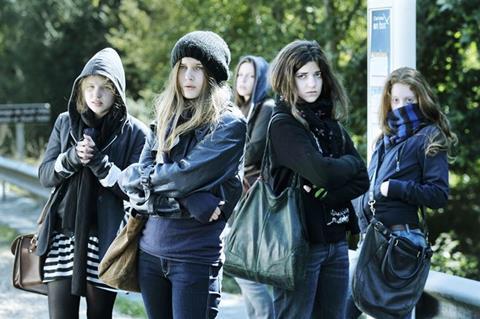 When one headstrong young woman in a French seaside community finds herself accidentally pregnant, over a dozen of her high school classmates deliberately decide to join her in 17 Girls (17 Filles). Anyone - male or female - who grew up when an out-of-wedlock teen pregnancy was as welcome as a nuclear attack will be slack-jawed in amazement as the title batch of 16-year-olds conclude that it'll be federating and fun (as opposed to incredibly foolish and options-limiting) to raise their babies together in a sort of girl power commune whose logistics are never discussed in depth.
A more down-to-earth and mundane 21st-century answer to Picnic At Hanging Rock.
Taking inspiration from a real-life example in the US in 2008, sister writing and directing team of Delphine and Muriel Coulin have made an altogether French film populated with fresh-faced and energetic young women as stubborn and gung-ho as they are oblivious. Tailor-made for festivals, this feature debut (after five noteworthy shorts) marks the sisters as talents to watch.
A more down-to-earth and mundane 21st-century answer to Picnic At Hanging Rock, the film is a portrait of schoolgirls caught up in exceptional circumstances. In thrall to ultimately inexplicable forces, they are forever changed by one girl's charisma.
With the screen completely black, a girl's voice-over tells us that the Brittany town of Lorient was overrun with ladybugs that autumn. We then discover most of the youthful cast standing in a corridor in their panties and bras waiting to get a perfunctory check-up from the school nurse (Noemie Lvovsky).
At exam's end, Camille (Louise Grinberg) announces she thinks she might be pregnant. Five days later when she informs her four closest girlfriends, she's eight weeks along. Camille hasn't told her single mom (Florence Thomassin) yet and isn't at all sure she wants to abort the fetus, the result of a one-night stand with a handsome classmate to whom she seems indifferent.
The girls are all "good" kids - drug use and drinking are minimal. Cigarette smoking is as rebellious at it gets. Where a lot of movies would show embarrassed teens shoplifting a home pregnancy test, here a group of girls go to the pharmacy, ask if pregnancy tests are "re-usuable" and, learning they're not, plunk down the cash for a dozen kits.
The young women set about getting knocked up. There's no peer pressure in the traditional bullying sense. These young ladies genuinely seem to think that it'd be fun to have babies and raise them as a group. (Even a classroom showing of a yucky live-birth film doesn't slow the march of twitching ovaries). Their town doesn't have much to offer so the girls opt to skip the soul-searching and simply propel themselves into adulthood en masse. They're exultant instead of panicked.
That their poorly defined project might squash their futures or lead to regrets doesn't seem to cross anyone's mind, although there ARE a fair number of wordless shots of individual girls sitting on their beds with far-off expressions closer to shell shock than bliss.
At least one character is willing to resort to subterfuge to be part of the pregnant clan, whose members are seen doing relaxation exercises together in a swimming pool with their bellies proudly protruding from the water.
Camille's hard-working mother thinks her daughter's an idiot to complete the pregnancy and points out she can't even keep her room tidy let alone care for a child. Clementine's (Yara Pilartz) parents are furious. Her father wants to confront the boy responsible. (In reality, Clem paid him to deflower her while fertile). Her mother says she still plays with stuffed animals and that her tiny build makes a pregnancy risky.
The school's staff is baffled and unprepared for such an unprecedented epidemic of poor judgment with lasting consequences. An older female staffer offers comic relief when she posits this might be "progress" since unwed teen pregnancy used to be a catastrophic social blunder. The male gym teacher whines "I have a curriculum to follow - do I include the high jump or not?"
Non-French audiences may be surprised to learn that minors can decide whether to continue or abort a pregnancy without any parental jurisdiction. Some viewers may be even more surprised when the school nurse, unsettled, asks very-pregnant Camille "Mind if I smoke?" and lights up.
Camille is strong, self-possessed and pretty and other girls want to be like her. A sort of group mind takes hold, perhaps analogous to a bunch of underage male buddies signing up for the army together — not because of a draft but because it seems like an adventure they can share. Shooting in their home town of Lorient, the directors capture an ineffable sense of place against which universal emotions play out. The cast of mostly first-time young actresses is convincing across the board.

Production companies: Archipel 35, ARTE France Cinema, Canal Plus, CinéCinéma
International sales: Films Distribution, www.filmsdistribution.com
Producer: Denis Freyd
Executive producer: André Bouvard
Cinematography: Jean-Louis Vialard
Production designer: Benoit Pfauwadel
Editor: Guy Lecorne
Main cast: Louise Grinberg, Juliette Darche, Roxane Duran, Esther Garrel, Yara Pilartz, Solene Rigot, Noemie Lvovsky, Florence Thomassin, Carlo Brandt