Schoolchildren are dragged into Guatemala's Civil War in Sergio Ramirez's second feature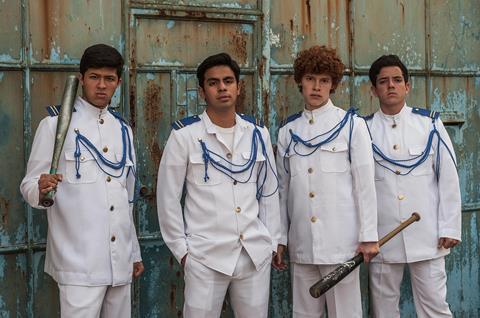 Dir: Sergio Ramirez. Guatemala. 2021, 77 mins
Guatemala's civil war (1960-1996) was much more than a fight between government and rebels; it involved military dictatorship, genocide and a chronic crime wave. If all that wasn't bad enough, it appears that even schoolkids were taking part in the killing. Sergio Ramirez's second film (after 2012's Distance) touches on the appalling phenomenon, in Guatemala City between the late 80s and the war's end, that saw upper-class youths take part in 'hunts' for indigenous men, attacking and often murdering them, in crimes that were never investigated. The antagonism was supposedly over break-dancing, though the real driver was a violent racism that reflected the tone of the military's repression.
The set-up is as much Faustian pact as teen coming of age
In a way that's slightly reminiscent of Chilean Andres Wood's Machuca, 1991 uses a boy's painful coming of age as a prism through which to observe and comment on a country's horror. Unfortunately, Ramirez and his collaborators – including Guatemalan cinema trailblazer Jayro Bustamante, whose La Llorona was among the nominations for this year's foreign language Golden Globe – don't achieve the same impact as that earlier film: 1991 feels like it's skimming off the surface of a fabulous story. Nevertheless, as another, honourable step in this country's growing industry, allied to enthusiasm for Latin American cinema's representation of the region's social issues, it could well garner wider festival play.
1991 opens strongly, between a panicked boy running through the streets, a violent attack involving a baseball bat, and a newsreel montage that illustrates the knotty social stew of the period – soldiers and evangelists, street gangs and beauty pageants. The boy is 17 year-old Daniel (Eduardo Cabrera) who, in the first of a handful of voice-over reflections, introduces the class divide between the 'breaks' and 'antibreaks' and laments: "I was a 'break' without wanting it." Daniel lives with his older sister, while their mother works illegally in New York, sending them money. When not at school, he cleans pools and gardens for the city's pampered elite alongside his best friend Beto (Brandon Lopez). While Beto, who is actually a break dancer, seems relatively content, Daniel is itchy for escape.
This comes in the form of new classmate Tony (Juan Jose Muralles) - white, ginger-haired and wealthy and already glimpsed wielding that baseball bat. Tony's unexplained expulsion from his previous school leads to him slumming it at Daniel's, where soccer forms an unlikely connection between the two. Each has other motivations for friendship, though: Daniel is desperate to see how the other half lives and has eyes on Tony's sister; the malevolent Tony wants insider intel on his new pal's poor neighbourhood.
The set-up is as much Faustian pact as teen coming of age, with a political maelstrom from which to draw extra friction. And yet, having established his subject quickly and economically, Ramirez almost imperceptibly dampens his fuse. There's almost none of the context seen in that opening montage; streets are often empty save for the main characters, who reveal little in the way of development or inner lives. Daniel's tiny betrayals of family and friends are often unaccompanied by their consequences. And so the story slowly fizzles, until a sudden, rushed conclusion.
The film has some attractive lensing by Alvaro Rodriquez, whether a superbly framed, nocturnal shop for tortillas, youths smoking joints in an empty soccer stadium, or young lovers perched on the terraces of beautiful modern homes. Ramirez says he thought of Robert Bresson when working with his young actors (apparently a number of them non-professional) and they can't be faulted; there's a particularly winning chemistry between Cabrera and Lopez.
1991 is produced by Bustamante's company La casa de produccion and he shares writing and editing credits with Ramirez and editor Cesar Diaz, who also cut Bustamante's Tremors and Ixcanul – suggesting the kind of support and collaboration between filmmakers that has taken other Latin American industries forward over the past two decades.
Production companies/international sales: La Casa de Produccion, Lisandro.lacasadeproduccion@gmail.com
Producers: Jayro Bustamante, Joaquin Ruano
Screenplay: Sergio Ramirez, Jayro Bustamante, Cesar Diaz
Production design: Myriam Ugarte
Editing: Cesar Diaz, Jayro Bustamante, Sergio Ramirez
Cinematography: Alvaro Rodriquez
Music: Pascual Reyes, Renato del Real
Cast: Eduardo Cabrera, Brandon Lopez, Juan Jose Muralles, Daniela Castillo, Maya Nunez