Dir: Alexandre Arcady. France. 2014. 111mins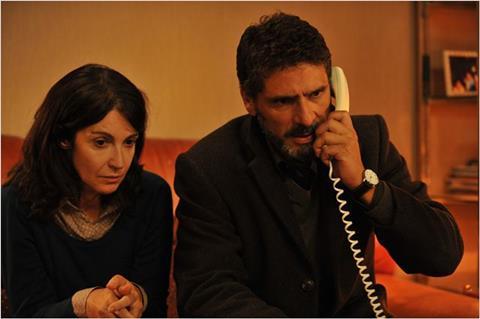 There's no way - or reason - to sugarcoat the horrific true story of how, in 2006, a multiracial gang of conscience-impaired French youngsters kidnapped 23 year-old Paris telephone vendor Ilan Halimi for ransom and tortured him for the titular 24 Days (24 Jours) on the theory that since he was Jewish, he must be rich. Alexandre Arcady's film is wrenching and politically astute. A fine candidate for Human Rights and Jewish fests the world over, this April 30 release in France has already stirred up salutary public debate.
Although most of the physical violence is offscreen, of course it's violent. And it should be.
French cinemas in any given week are full of films showing injustice in 'other' countries, but this shocking tragedy happened right in Paris. It's such an important story, with such unsettling implications, that the French Ministry of Education has decided to show 24 Days in schools.
Will movie-goers pay money to see such an off-putting, violent topic explored? Whatever the viewer experiences, it's (literally) nothing compared to what befell Ilan Halimi. The film's topic is hard to take - as well it should be - but this upsetting and instructive film, adapted from Ilan's mother Ruth's account of the family's ordeal, also works as a police procedural with a man's life at stake.
Some viewers may find the treatment too slick or convenient, but the narrative's progress is sound. Ruth Halimi (Zabou Breitman, excellent) addresses the camera at the outset to say "It happened to me and my family, but it could have happened to others."
Although the police had hundreds of officers trying to track down the perpetrators and rescue Ilan, mistakes were made because the authorities refused to take into account the undeniably anti-Semitic motivation for the crime.
The leader of the so-called 'Gang of Barbarian's, a certain Fofana (Tony Harrisson, truly scary), slipped through the cops' fingers more than once. It's heart-breaking stuff told with sobriety, implacable authority and a surprising degree of suspense, although local audiences know how the tale ends.
Although headway is slow, the detective in charge of the investigation (Jacques Gamblin) and the psychologist specialising in negotiation (Sylvie Testud) are confident that their professional training and rigor will produce results. They have no room in their shared mindset for Ruth's gut feeling that her son's life is in greater danger than a non-Jewish hostage. The Halimis don't have the substantial sum demanded and the official French government line is that it doesn't give in to financial blackmail, lest that set a precedent.
Ruth and her ex-husband (Pascal Elbé) received over 650 insulting, anxiety-producting, phone calls during the three-week nightmare.Some wonder whether the kidnappers' motivation was blind hatred of Jews. This meticulously researched and reenacted filmic account settles that question once and for all. There's no doubt, because the horrific logic is there for all to see. (Several books have been published on the crime and ensuing trial, and another film is supposedly in the works.)
Ilan was being held in a public housing block in a Paris suburb and at least 30 people knew about it but did nothing, ostensibly afraid of what Fofana would do to them if they snitched to the authorities.
The film wasn't easy to finance, despite a name cast. And French TV stations didn't pitch in. The tech crew donated a week's salary to get the film made.
Although most of the physical violence is offscreen, of course it's violent. And it should be. What was done to this one young man - at that time the first French Jew since WWII to have been deprived of his dignity and human rights simply for being Jewish - is unspeakable.
The production was allowed to shoot inside Paris police headquarters and other authentic locations where crucial events transpired. For the record, Arcady's son, genre director Alexandre Aja, handled second unit.
Production companies: Alexandre Films, Orange Studio, New Light Films
International sales: Kinology, www.kinology.eu
Producers: Alexandre Arcady, Frédérique Dumas
Executive producers: Catherine Grandjean, Claude Fenioux
Screenplay: Alexandre Arcady, Antoine Lacomblez, Emile Frèche, based on the book 24 jours: la vérité sur la mort d'Ilan Halimi by Ruth Halimi and Emilie Frèche
Cinematography: Gilles Henry
Editor: Manu De Sousa
Production designer: Tony Egry
Music: Armand Amar
Main cast: Zabou Breitman, Pascal Elbé, Jacques Gamblin, Sylvie Testud, Eric Caravaca, Olivier Sitruk, Olivier Barthélémy, Matthieu Boujenah, Tony Harrisson, Emilie Caen, Marc Robert