Dir/scr: Eric Mendelsohn. US. 2010.  88mins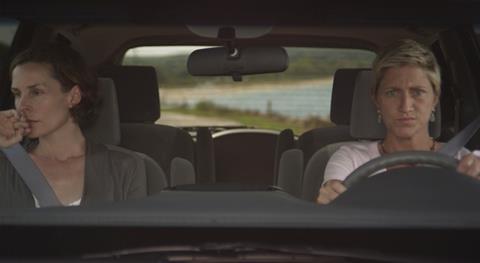 Mendelsohn's debut feature, Judy Berlin (1999), was set on Long Island and starred Edie Falco. With 3 Backyards he revisits similar turf. He knows the lifestyle, having grown up there. Here he interweaves three main stories about suburbanites who don't know one another but live in the same town, which most urbanites would consider dull.
With Edie Falco on board, 3 Backyards can find a specialised audience in many markets.
The connective tissue, leaves abstracted, for example, is beautiful—Bart Feller's haunting flute music between the different stories is inspired as well—and each tale powerful in its own way. Mendelsohn deservedly won best director at Sundance for this somewhat melancholic ode to residents of these essentially artificial, and insular, communities.
Screen Media is opening the film in the US in March or April, and IFC Films is handling several foreign territories, though Caruso-Mendelsohn Productions is the chief international sales agent. If played up correctly, as potent character studies of individuals enduring life crises, and with Falco on board, 3 Backyards can find a specialised audience in many markets. It will also probably rely on the support of critics.
The biggest crisis is the midlife one for John (Koteas), who is undergoing such relationship problems with his wife (Erbe) that even when his business trip is cancelled, he opts for observing her and their daughter through the window of their home. But his emotional dip opens him up in other ways, especially his interest in the fate of a young African immigrant woman looking patiently for menial work until tragedy befalls her. She would not enter his field of vision otherwise, and the whole experience helps recharge his routine life.
Peggy (Falco) is the manic, motormouth of a neighbour who wants to do the right thing but is too self-absorbed to be able to let go enough to succeed. She drives a famous visiting actress (Davidtz) to the ferry, but is offended rather than sympathetic when the actress keeps crying but refuses to tell her what it's all about. In fact, we never know, and it's not important.
The third "backyard" is that of Christina (Rescheff), a young girl of about 10 who loses her mother's jewelry taking a shortcut through the land of a local pedophile. Yet she is fearless, and in an inspired moment gives the needy man a little kiss on the cheek.
Mendelsohn refuses to satirize suburbia, or to take it too seriously. What he does do is present very real souls who just happen to live in this kind of community with compassion and understanding.
Production companies: Caruso-Mendelsohn Productions, Fred Berner Films
International sales: www.3backyards.com
Producers: Rocco Caruso, Amy Durning, Eric Mendelsohn
Executive producer: Fred Berner
Cinematography: Kaspar Tuxen
Production designer: Markus Kirschner
Editors: Morgan Faust, Jeffrey K. Miller, Eric Mendelsohn
Music: Michael Nicholas
Website: www.3backyards.com
Main cast: Embeth Davidtz, Edie Falco, Elias Koteas, Rachel Rescheff, Kathryn Erbe, Danai Gurira