Dir: Benoit Jacquot. France.106mins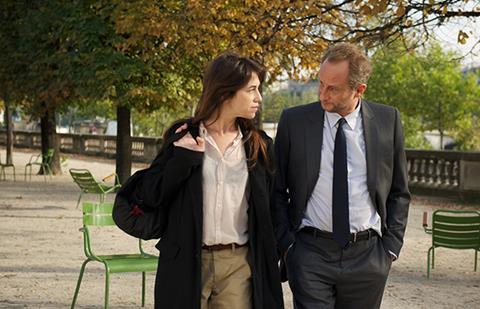 Nothing else in this surprisingly conventional melodrama from French maverick Benoit Jacquot comes close to the romantic adrenalin rush of the opening scenes, in which a missed train is the catalyst for a boy-meets-girl encounter that throbs with restrained erotic magnetism. From there on in, the film settles down into recounting a watchable but routine story of passions thwarted that rests on such implausible premises that it's difficult to take seriously.
Stories like this just don't work in the digital age.
There's no faulting the performances of Benoit Poelvoorde, Charlotte Gainsbourg and Chiara Mastroianni as the three cornerstones of the film's tragic love triangle, and the whole thing looks and sounds eminently cinematic. It's the script that lets the side down, first by hoping we won't notice its gaping credibility holes, and second through its unshaded focus on a grand amour which isn't quite grand or tragic enough to hold our interest. Melodrama is a genre that never quite went away in France, but unlike, say, Philippe Claudel's Kristin Scott-Thomas weepie I've Loved You So Long, 3 Hearts (3 coeurs) fails to make a good case for the contemporary relevance of the form.
The big-name cast should boost what would otherwise likely be a middling French domestic run; elsewhere, despite a raft of sales, 3 Hearts will not be the ace of spades, except perhaps in markets that are getting short on supplies of French amour passionel and aren't too fussy about how they're served.
Poelvoorde plays Marc, a tax inspector who, while on assignment to a small provincial French town, misses the last train back to Paris. Somehow, in that way the French (and Ethan Hawke in Before Sunrise) do so well, he manages to parlay a chance meeting into a chaste but romantic all-night stroll around town with Sylvie, a gamine lost-soul played by Gainsbourg (a role that she inhabits like an old pair of jeans). As Marc's train pulls out, they agree to meet in Paris in a few days time, conveniently failing to exchange names, phone numbers or anything in the way of ID so that the course of true love can ricochet down the rapids of outrageous fortune. Returning home after the missed rendezvous, Sylvie makes up with the cypher of a boyfriend she just walked out on and agrees to follow him to the States.
It's here that the plot goes into full operatic mode (if you can imagine an opera with a tax inspector in the main tenor role). Accepting another assignment in the same town – actually Valence in south-east France – in the hope of meeting Sylvie, Marc instead finds himself helping out her antique-dealing sister Sophie (Mastroianni) with a little tax problem. Love blossoms over the audit sheet and it's not until the eve of the wedding – held in the smart bourgeois family home presided over by an elegantly maternal Catherine – that the penny drops, and Marc realises that Sophie and Sylvie are sisters.
Stories like this just don't work in the digital age, but the director makes no attempt to turn Marc's blindness to sister-to-sister Skype chats or failure to mount the stairs of the family house where the photos hang into anything other than an improbable given. Emotion survives the contrivance, thanks to the always committed, believable performances by the three leads, with the relationship of the two sisters feeling particularly authentic.
Jaquot's obvious affection for French provincial life is dutifully undermined by an under-developed subplot involving a tax-fiddling mayor, but reaches none of the complexity of Douglas Sirk's deconstruction of all those warmly lit small-town-America clichés. In the end, despite the tortured passions of the core triangle, we're left trying to puzzle out the relevance of a film that exhumes the corpse of 1940s US melodrama, but fails to breathe new life into it.
Production company: Rectangle Production
International sales: Elle Driver, sales@elledriver.eu
Producers: Edouard Weil, Alice Girard
Screenplay: Julien Boivent, Benoit Jacquot
Cinematography: Julien Hirsch
Editor: Julia Gregory
Production designer: Sylvain Chauvelot
Music: Bruno Coulais
Main cast: Benoit Poelvoorde, Charlotte Gainsbourg, Chiara Mastroianni, Catherine Deneuve