Dir: Claire Denis. France-Germany. 2008. 100mins.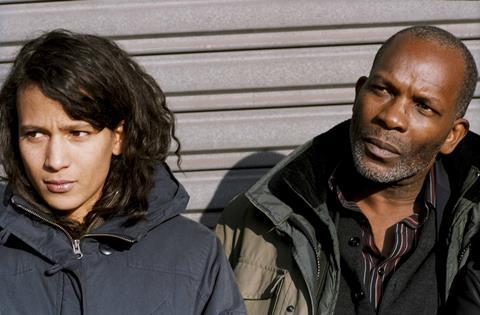 Little seems to be going on in this story about a widowed father and his student daughter living in a Paris suburb but Claire Denis's compelling, low-key film emerges as a complex and affecting portrait of intricate human relationships focused around a central theme of letting go. Superbly served by actors who know how to imply a lot by doing very little and avoiding the usual cliches that afflict films set within the same social milieu, this will richly reward patient audiences. Festivals and art circuits are sure to respond.
Lionel (Descas), a black train driver, has devoted his entire life to bringing up his daughter Josephine (Diop). Aware that she is old enough to want her independence, he is reluctant to lose her and she is not quite ready to leave the protective cocoon of home. Their neighbours include taxi driver Gabrielle (Dogue) whose gentle attempts to befriend them are firmly resisted, and Noe (Colin) who has left his flat exactly as it was when he inherited it from his late parents.
Nothing much happens here - Lionel's colleague Rene retires, Noe's cat dies - but there are subtle nuances throughout that the time has come for all these people to let go: for Lionel to let Josephine go, for Josephine to leave home, for Noe to free himself from his past. Rene, who lived only for his job, takes the most drastic step of them all.
What makes this all so distinctive is Denis refusal to resort to stereotypes. This Parisian suburb isn't the usual immigrant enclave steeped in crime, racism, poverty, unemployment and drugs. These are people leading normal lives, living in grey buildings where the elevators work, the corridors are clean and the flats well tended. It is probably the first time that these hostile surroundings have looked not only habitable but somewhere where warm, human social intercourse takes place.
Denis' fascination with shots of train tracks might seem excessive at time but the economy of her dialogue and the unobtrusively tight montage are laudable. Of the cast, Descas, Diop and Dogue, in particular in a luminous performance as a woman who knows she cannot come between father and daughter, are all excellent. A scene of them dancing with each other is a masterful example of how expressive actors' faces can be.
The only jarring scene comes when Lionel and Josephine drive to Germany to visit a friend of Josephine's late mother which is out of key with the precise nature of the rest of the film.
Production companies
Soudaine Compagnie
Arte France Cinema
Pandora Film Produktion
International sales
Elle Driver
(33) 1 56 43 48 70
(33) 6 99 47 98 10
Producers
Bruno Pesery
Screen play
Claire Denis
Jean-Pol Fargeau
Cinematography
Agnes Godard
Production design
Arnaud de Moleron
Editor
Guy Lecorne
Music
Tindersticks
Main cast
Alex Descas
Mati Diop
Gregoire Colin
Nicole Dogue
Julieth Mars
Ingrid Caven