Dir: Jonathan Levine. US. 2010. 99mins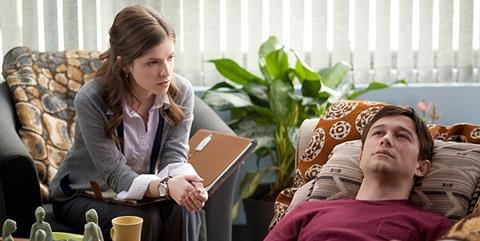 The cancer comedy 50/50, so named for the protagonist's odds of survival, offers a crowd-pleasing diversion about one man's battle with the deadly disease. The mix of Seth Rogen comedy–with his familiar talk of "ball-hair trimmers" and "getting laid"—with scenes of chemotherapy and funerals should, by all means, not make for a successful combination. But as 50/50 is, ultimately, a light and breezy romantic comedy, it probably has that much of a chance in the marketplace.
Of course, 50/50 doesn't want to be Terms Of Endearment but it should probably produce more tears.
When the film is released in the US later this month, Summit Entertainment will have to position it with extra special care. It's going to take a lot of clever advertising to entice Rogen's fan-base to see a movie about a malignant spinal tumor.
The appealing Joseph Gordon-Levitt stars as Adam, a regular Seattle guy who one day randomly learns he has a rare cancer in his back. He breaks the news to his arty girlfriend (Bryce Dallas Howard), who tries to act caring, his best friend Kyle (Rogen), who has an incredible ability to make light of everything, and then his smothering mother (an excellent Angelica Huston, who manages to be both credibly strong and fragile in the same instant).
Director Jonathan Levine (The Wackness) and first-time screenwriter Will Reiser, whose bout with the disease inspired the script, do manage to wring a considerable amount of humor from the difficult circumstances that surround the illness. One comic bit revolves around Adam getting his head shaved—a comic gift that keeps on giving. (One laugh line has Adam saying, "I look like Voldemort.") And the medicinal use of marijuana also provides the filmmakers numerous opportunities for humor: Some pot macaroons make the hospital a surprisingly funny place.
It's a testament to the filmmakers' abilities that they manage to make so many of the conventions of the romantic comedy work in such a setting. Although sometimes they don't. Kyle's mission to get Adam "laid," in the midst of chemo, is particularly out of place; while it might be right for The 40 Year Old Virgin, here it just seems forced.
But Rogen, playing the chauvinist man-boy familiar to audiences, is funny. He can even make a surgical scar into a hilarious pop culture joke. And when Rogen's Kyle catches Adam's girlfriend cheating on him, he confronts her with so much giddy and glee that it's infectious. The film's love interest Anna Kendrick (Up In The Air), also plays to type, as Adam's peppy, somewhat naïve therapist. Neither supporting actor stretches much, but for a comedy about cancer, you can't expect it to take any further risks.
That leaves it to Gordon-Levitt to take on the emotional weight of the film. And while he's always convincing, the surrounding story elements make for a less than resonant experience. Of course, 50/50 doesn't want to be Terms Of Endearment—which Adam references at one point—but it should probably produce more tears.
Production companies: Summit Entertainment, Mandate Pictures
International sales: Lionsgate International
Executive Producers: Nathan Kahane, Will Reiser
Producer: Evan Goldberg, Seth Rogen, Ben Karlin
Screenplay: Will Reiser
Cinematographer: Terry Stacey, ASC
Production Designer: Annie Spitz
Editor: Zene Baker
Music:Michael Giacchino
Main Cast: Joseph Gordon-Levitt, Seth Rogen, Anna Kendrick, Bryce Dallas Howard, Anjelica Huston