Dir/scr. Xiaolu Guo. UK / Germany / France, 2009. 98 min.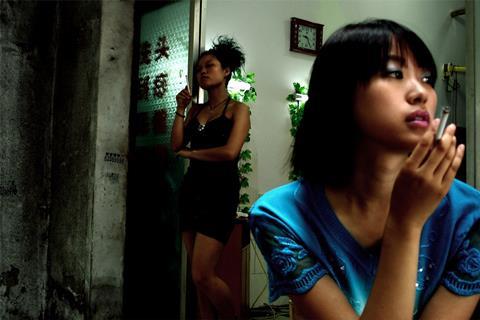 Far removed from the complex multi-level narrative of her debut How is Your Fish Today, Xiaolu Guo's new feature looks and feels more like a sketch for a novel than a proper film. Evidently made on a low budget, She, A Chinese is divided into a lengthy list of chapters detailing the journey of a stubborn, enigmatic Chinese girl from the monotony of a miserable small village not far from Chongqing to the banks of the river Thames.
As enticing as all this might have looked on the written page, on screen, it feels bland, calculated and remote.
Using a sort of telegraphic style which offers up the big picture but only very sparse details, Guo asks her audience to flesh it out themselves, perhaps using information they've taken from previous films on similar themes. It's an intriguing approach, but robs the final result of its emotional potential: the result is a framework which needs to be fleshed out further.
There's certainly ample materiel here. Li Mei (Huang Lu) is first seen tending to pool tables in China, turning a deaf ear to her mother's harangues and being courted and later raped by a truck driver. Sick of country life, she gets on a bus to Chongqing, is fired from a shirt factory for sloppy work, sweeps the floor of a hair dressing salon, and has an affair with a hit man (Wei Yi Bo). He leaves her with a pack of banknotes which lead her to the nearest travel agency and straight to London, to the Big Ben she has only seen on a calendar in her lover's room.
At this point, a new, but not necessarily better life commences for Li Mei, and Guo adopts a different cinematic language to portray it. The rigid camera of the first half is replaced by more fluid, visual work, while the soundtrack is influenced by distinctly western sounds (PJ Harvey and the Eels).
After moving through the series of menial jobs which is the sad lot of an illegal immigrant, Li Mei meets a retired English teacher (Hutchings) in a massage parlor, marries him, but soon tires of the old man's company and throws herself into the arms of Rachid (Ryman), an Indian Muslim operating a fast food stand next door.
In the normal course of events, these stages in Li Mei's life would have been explored in more detail, the characters she meets would have been more than quick sketches and the viewer would have had the chance to relate to them. But Guo is laconic at all times, leaving out most of the meat on life's bones.
Li Mei's fate is arbitrarily manipulated by a script which removes any obstacles which might have become an impediment to her progress. It is as easy or as difficult for Li Mei as the viewer likes to imagine it, based on the bare information that is handed out. Her sullen countenance does not invite either sympathy or the desire to understand; only her softening expression in the final sequences hint at something different. As enticing as all this might have looked on the written page, on screen, it feels bland, calculated and remote.
To sign up for Screen's weekly Reviews Newsletter with new releases, international openings and full festival reviews delivered free to your mailbox every Friday, please click HERE

Production Companies/international sales
Tigerlily Films
Warp X
+ 44 (0) 207 729 9845
Producer
Natasha Dack
Cinematography
Zillah Bowes
Production design
Tine Mette Jespersen
Yao Jun
Editing
Andrew Bird
Music
John Parish
Main Cast
Huang Lu
Wei Yi Bo
Geoffrey Hutchins
Chris Ryman