Dir/scr: Pedro Gonzalez-Rubio. Mexico. 2009. 73mins.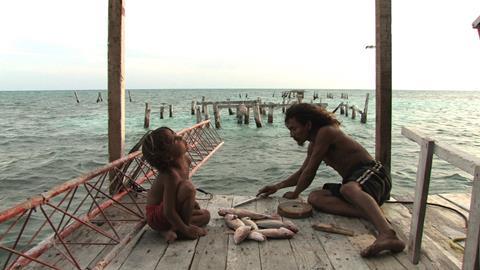 One of the undersold qualities of cinema is its ability to let the audience live somewhere else for a while. When that other place is a Mexican coral reef, the effect is all the more intense. This delightful, graceful Mexican drama-documentary tells the story of a five-year-old boy whose father takes him on a journey to his roots before he returns to Italy with his mother.
Not knowing how much - if any - of this film is staged or acted contributes to Alamar's suspended, semi-magical style
Alamar,recent Tiger winner at Rotterdam, is a poignant cinematic ode to father-son relationships, an elegy to the virtues of freedom in childhood, and a passionate defence of the integrity of nature's few remaining paradises. It has already been picked up by several arthouse distributors, including Film Movement in the US which is planning a July 14 theatrical release; more sales should follow.
It would be a shame to overhype it, though, as Alamar is a very small, fragile, low-budget title. It takes a while to buil; the brief Italian opening section is very lo-fi and a little disorienting, but a voice-over from Natan's mother Roberta soon explains that she met the boy's father, Jorge, in Mexico, and lived with him there for a few years before they parted amicably.
Natan will now live with her in Rome, but before he settles into school and the city, his father wants to take him on a journey.
Jorge and Natan travel by bus for a while and then get a boat; it's difficult to know where they're going, but one of the film's strengths is its laconic attitude towards exposition. It helps us to see the journey though Natan's eyes, and to feel the magic of the final destination: a community of fishermen living in stilt huts above the waters of an unnamed coral reef (in fact the Chinchorro reef, a UNESCO Biosphere reserve off the coast of Majahual).
Here they shack up with old fisherman Matraca, who takes them fishing on his boat. We go underwater with Matraca and Jorge as they catch lobster and see Natan land a huge fish by using just a piece of nylon line. Back at the shack, an egret appears, and father and son adopt it.
Not knowing, for sure, how much - if any - of this is staged or acted contributes somehow to Alamar's suspended, semi-magical style. The photography helps as well: though shot in Cinemascope, the Chinchorro scenes have a Super-8 feel which distance them in time as well as space, placing them in some past happy time when all anyone really need was a hammock and a bowl of fish soup.
To sign up for Screen's weekly Reviews Newsletter with all the week's new releases, international openings and full festival reviews delivered free to your mailbox every Friday, please click HERE
Production company
Mantarraya Producciones
International sales
MK2
(33) 1 44 67 30 30
Producers
Jaime Romandia
Pedro Gonzalez-Rubio
Cinematography
Pedro Gonzalez-Rubio
Underwater cinematography
David Torres
Alexis Zabe
Editor
Pedro Gonzalez-Rubio
Main cast
Jorge Machado
Natan Machado Palombini
Nestor Marín, 'Matraca'
Roberta Palombini