Dir-scr: Woody Allen. US. 2010. 98mins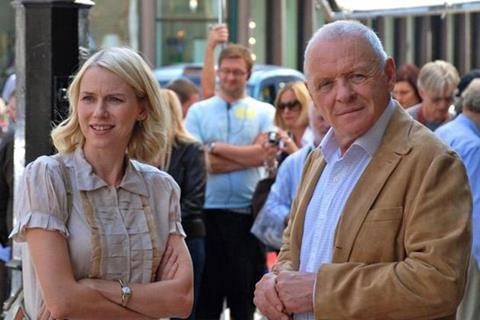 Love makes fools of everyone in You Will Meet A Tall Dark Stranger, a typically wry, rueful ensemble piece from Woody Allen with a mellow autumnal tone that veers more towards the dramatic than the comic. More persuasive than some of Allen's London-town ventures, it improves in the telling as the failings and follies of the characters gradually reveal the plaintive poignancy of their lives.
A starry ensemble cast may add a smidgen of extra commercial appeal.
The material hardly breaks new ground for the prolific 74 year-old auteur, and suggests moderately healthy returns in those European territories where he remains a stalwart attraction alongside the traditional indifference in other parts of the world. A starry ensemble cast may add a smidgen of extra commercial appeal but there is nobody with the heat to make that a significant factor.
Propelled by an intrusive amount of voice-over narration, You Will Meet A Dark Stranger sets out its stall with a line from Macbeth encouraging us to anticipate a "tale of sound and fury signifying nothing".
Love and death are the main themes as Allen introduces a series of characters and allows us to observe as the certainties of their lives are overturned and a new order is established.
The wealthy Alfie Shepridge (Anthony Hopkins) has left his wife of 40 years in a forlorn attempt to recapture his lost youth. His new life is defined by a fast car; a gym membership; sun beds and a befuddled infatuation with Charmaine (Lucy Punch), a vulgar, gormless blonde bimbo with the instincts of a shameless gold-digger.
Alfie's increasingly eccentric wife Helena (Gemma Jones) is putting her faith in fortune-teller Cristal (Pauline Collins) and now accepts her wild predictions as gospel truth. The Shepridge's daughter Sally (Naomi Watts) is married to Roy (Josh Brolin), a writer who has never fulfilled the promise of his first novel and is now struggling to complete his new magnum opus.
Roy's attention is regularly distracted by the sight of his beautiful neighbour Dia (Freida Pinto) whilst Sally develops a crush on her art gallery boss Greg (Antonio Banderas).
The roundelay of inappropriate relationships and cruel twists of fate provides some amusing moments as we reach the realisation that there is a tall, dark stranger that we are all destined to meet and that is the Grim Reaper.
Most of the comedy comes from the older generation. Hopkins has the role that Allen himself might have played and just occasionally slips into an echo of Allen's vocal delivery and mannerisms. He effectively captures the breezy enthusiasm of the born again Shepridge but also the underlying sadness of a man who finally acknowledges that perhaps he does have one foot in the grave and that the other foot is probably not far behind.
His frequent declarations on the great genes in his family are said more in wild hope than solid conviction. British veteran Gemma Jones is also extremely engaging as Helena, allowing her faith in a charlatan to become the defining focus of her life. You can almost see the madness taking a grip of her as downgrades the importance of everything else in her life, including the needs of her daughter.
Some characters feel a little neglected in the larger sweep of the ensemble and there is no single performance that has the stand-out potential that brought Penelope Cruz an Oscar for her feisty turn in Vicky Cristina Barcelona.
Set in a sophisticated world of nights at the opera, picnics in the park, art galleries and rollerblading along the Embankment, You Will Meet A Dark Stranger seems less self-conscious about its London location than the likes of Cassandra's Dream or Match Point. The slightly drab colour palette used by cinematographer Vilmos Szigmond paints a windy city of grey skies and rainy days that is much less of a character and more of an anonymous urban backdrop to Allen's musings on the fickle finger of fate and the comforting delusions we all embrace just to get through the unbearable business of being human.

Production companies: Dippermouth, Mediapro, Vessatil Cinema, Gravier Productions, Antena 3 Films & Antena 3 TV
International Sales: Imagina International Sales
Producers: Letty Aronson, Stephen Tenenbaum, Juame Roures
Co-producers: Helen Robin, Nicky Kentish Barnes
Executive Producer: Javier Mendez
Co-Executive Producer: Jack Rollins
Associate Producer: Mercedes Gamero
Cinematography: Vilmos Zsigmond
Production Designer: Jim Clay
Editor: Alisa Lepselter
Main cast: Anthony Hopkins, Naomi Watts, Josh Brolin, Antonio Banderas, Gemma Jones, Lucy Punch, Freida Pinto