Dir/scr: Artemio Narro. Mexico. 2014. 99mins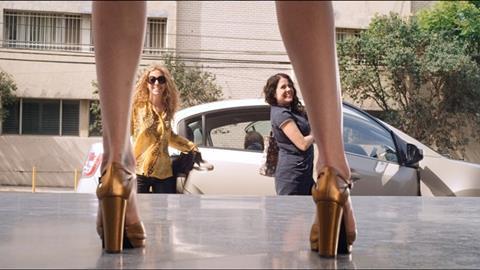 The smartly constructed Mexican violent horror/thriller I Stay With You (Me quedo contigo) turns the unpleasantly clichéd 'woman kidnapped, sexually abused and tortured' genre resolutely on its head and comes up with a controversial and consciously shocking genre film that will divide opinion, excite commentary and pique the interest of distributors and festivals willing to take a chance on its swagger and dark twists.
It is twisted, clever and extremely bold film and one that demands grim viewing.
It is film that gets more and more twisted as it delves into the darker side of its apparently simple story of bachelorette party that goes way out of control. Yes it is a commentary about violence in Mexico. But with male and female roles reversed it also tackles a nasty but popular movie genre, as well as offering some uncomfortably surreal laughs along the way. The film had its world premiere at the Rotterdam International Film Festival.
It all starts off innocently enough with footage of Esteban (played by Y tu mamá también star Diego Luna, in a brief but telling cameo) writing to his Spanish girlfriend Natalia (Beatriz Arjona), telling her how much he loves her and inviting her to come to be with him in Mexico. She flies to see him, but it turns out he has had to leave town for work, so she ends up spending time with her friend Ana (Anajose Aldrete) and Ana's two girlfriends.
Ana, Natalia and Sofia (Flor Eduarda Gurrola) meet with up with the wild and wicked Valeria (Ximena González-Rubio) at her house. Initially Natalia and Valeria don't get on, but the following night the foursome head off for a boozy night, initially starting out in classy clubs but ending up at a sleazy bar where Natalia catches the eye of a brooding cowboy sporting a white suit and white Stetson.
Before long the foursome have kidnapped the cowboy (Ivan Arana), tied him to the pole-dance pole in Valeria's basement and proceed to feed him Viagra. Stripped, gagged and sporting a drug-induced erection they proceed to drink heavily, taunt and abuse him – he is cut, urinated on and anally raped with a statuette – before packing him back into their car and dumping him…but making sure they take time out to have a swim before getting rid of him.
It is a battle of the sexes with the women here very much in control. The transition from feisty comedy into dark sadism is astutely judged, with artist Artemio Narro, who has made a number of installations and videos on the subject of violence, making his first fiction feature with a good deal of conviction and ambition. The performances are all extremely impressive, with Beatriz Arjona convincing as the mild-mannered Natalia and Ximena González-Rubio striking as the wild child Valeria.
There are moments of dark humour and even surreal elements – particularly as a man in a dark suit and tie wearing a horse head mask wanders into the room and plays pool while they are tormenting the cowboy and then simply wanders off – but it is also rather nasty and brutal and without any real sense of morality or redemption. But it is twisted, clever and extremely bold film and one that demands grim viewing.
Production companies: El Llanero Solitario, Cuarto Para las Doce, Endomia
International sales: El Llanero Solitario
Producers: Artemio Narro, Carlos Narro, Renato Ornelas
Cinematography: Renata Gutierrez
Editors: Artemio Narro, Diego Fenton
Production designer: Antonio de la Rosa
Main cast: Beatriz Arjona, Ximena González-Rubio, Anajose Aldrete Echevarria, Jose Maria de Tavira, Flor Eduarda Gurrola, Ivan Arana, Diego Luna