UPDATED: Indonesian exhibitor claims contracts were terminated illegally by Vietnamese property developer, which has made a counter claim that it was operating within the law.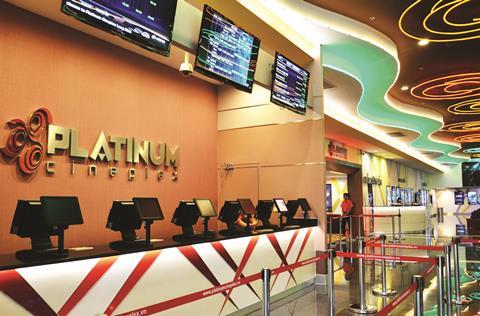 Indonesia-based exhibitor MVP Entertainment is threatening to take legal action against Vietnam's Vincom Retail after three of its cinemas were shut down by the property developer before the end of their lease.
MVP president Raam Punjabi, CFO Sunil Taparia and legal advisor David Abraham held a press conference in Hanoi, Vietnam on Wednesday (March 8) to put forward the company's case in the dispute, which started last year when Vincom said it was terminating MVP's rental agreements.
On March 1, Vincom forced the closure of three MVP cinemas, operating under the Platinum Cineplex brand, in Vincom retail malls in Hanoi. The three cinemas, with a total of 28 screens, were located in Vincom Long Bien Plaza, Vincom Mega Mall Times City and Vincom Mega Mall Royal City.
MVP, which is an indie distributor and exhibitor across several Southeast Asian territories, had signed 10 to 15-year lease agreements on the three complexes, opening the first site in 2011. The company also operates other multiplexes in Hanoi and the southern Vietnamese city of Nha Trang with other developers.
"We strongly condemn this move as it shows total disregard to follow the due procedure of law and shows lack of goodwill of a landlord to its anchor tenant," MVP said in a statement. "More importantly, this action of Vincom is neither sanctioned as yet by any Vietnam court nor by any government authorities."
MVP claims Vincom terminated the lease contracts illegally as the company had "not breached any clauses of the contracts" and has "no outstanding rents to any of the three Vincom malls". The company also says it has letters proving that Vincom declared its intention to terminate the leases early "based on their own discretion and not because of a breach of contract terms by Platinum".
MVP also said it had alerted the relevant Vietnamese government ministries to the dispute and would take legal action if Vincom failed to return MVP assets and compensate the company for its losses.
Following the press conference, Vincom Retail general director, Tran Mai Hoa, issued a statement claiming that the lease agreements include a clause allowing either party to terminate prior to the expiry date, "due to reasons other than those stipulated in the lease agreement", by giving either three or six months notice in writing, with different notice periods for different malls.
Vincom also said that MVP had been given notice, followed by a few extensions on the moving out dates, which is why it had decided to board up the cinemas on March 1.
"Besides the fact that MVP has a history of making rent payments late, which alone should be grounds for termination, the lease agreements also allow either party to terminate prior to the expiry date," said the Vincom statement.
"During the lease period, MVP repeatedly violated the lease agreements, including failure to make rent payment until we had to send several notices. To date, MVP is still in arrears on rent payment. This breach alone is sufficient grounds for us to terminate the leases. However, with good faith, we only request to terminate in accordance with the clauses above." [i.e. "due to reasons other than those stipulated in the lease agreement"].
Vincom also said that it had no comment on MVP's plans to take legal action, although it hoped the dispute could be settled under relevant civil and commercial laws. It's understood that MVP has already submitted a lawsuit to the Vietnamese courts and is waiting for confirmation that it has been properly filed.
However, Vincom had a stronger reaction to MVP's statement that it had approached Vietnamese government ministries: "We protest MVP's invitation for the Vietnamese government to get involved as this is a request for 'special treatment' and is a sign of disregard for the Vietnamese judicial system."
MVP also operates cinemas in Indonesia, Timor-Leste, Cambodia and Laos – in the latter two territories it has a joint venture with Thailand's Major Cineplex.
The company is also one of the region's leading buyers and distributors of independent Hollywood and Asian films, releasing titles across India, Indonesia, Vietnam, Thailand, Cambodia, Laos, Myanmar, Mongolia and Timor-Leste.