Dir: Sophie Hyde. Australia. 2013. 114mins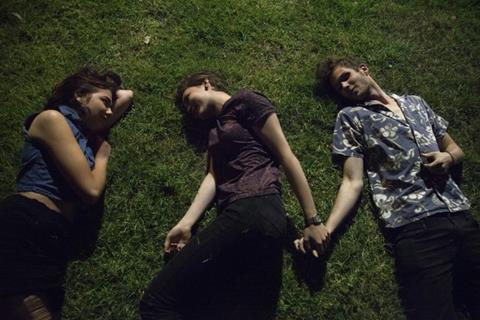 A delicate and frequently touching debut drama, Australian director Sophie Hyde's film 52 Tuesdays is the chronologically shot story of how a teenage girl deals with her mother's female-to-male gender transition. Shot docudrama style and using non-professional actors, it is a remarkably assured and striking debut that mixes up filmmaking styles to come up with a film that will likely spark distributor interest.
But the core of the story and the honest relationship between James and Billie is beautifully sustained.
It is a challenging and moving story of a family turned upside down, and while the non-professional actors at times find it a struggle to match the ambition of the concept, this bittersweet story has a real sense of honesty – Hyde drew from her own experiences with her parents – that helps drive the story.
The structure of the film is that it was shot every Tuesday for 52 consecutive weeks, with the filmmakers applying the rule that they could only shoot up till midnight. The writers, Matthew Cormack and Sophie Hyde, created the structure before they decided on character and story. Led by performances of the cast playing the mother Jane/James (Del Herbert-Jane) and teenage daughter Billie (Tilda Cobham-Hervey), the non-professional actors were given the script one week at a time and only given the scenes that they were in.
Billie begins a video diary about her mother Jane as she begins her process to become a transgender man. Billie goes to live with her father (Beau Travis Williams), meeting up with her mother for a few hours each Tuesday and filming their meetings as she struggles at times to deal with not just the process but that fact that she feels out of the loop in terms of what is happening.
She adores her mother, but finds her feelings for James much more complex, and in a move to explore her own burgeoning sexuality crops off her hair and using her video camera films her tentative flirtations with older schoolmates Josh (Sam Althuizen) and Jasmine (Imogen Archer).
James also has issues. His body rejects testosterone, which leads to bouts of depression and also hampers his transformation, plus he embarks on a relationship with work colleague Lisa (Danica Moors) that he keeps secret from Billie. It is a complex family structure trying to deal with equally complex issues and emotions, and it is a tribute to the non-professional cast that they keep their characters honest and affecting.
There is a niggling sense that Hyde and her screenwriter Matthew Cormack are trying just too hard to cover all of the transgender issues, with some characters perhaps not as fully rounded as they might be. But the core of the story and the honest relationship between James and Billie is beautifully sustained, with Herbert-Jane, a diversity consultant on the film before shooting began, delivering a gently striking performance.
Production companies: Closer Productions, in association with Australian Film Corporation, Adelaide Film Festival
International sales: Visit Films, www.visitfilms.com
Producers: Bryan Mason, Matthew Cormack, Rebecca Summerton, Sophie Hyde
Screenplay: Matthew Cormack
Cinematography: Bryan Mason
Production designer: Sophie Hyde
Music: Benjamin Speed
Main cast: Tilda Cobham-Hervey, Del Herbert-Jane, Mario Spate, Beau Travis Williams, Imogen Archer, Sam Althuizen, Danica Moors, Audrey Mason-Hyde